World's third tallest wooden building now open
Published on :Wednesday, November 3, 2021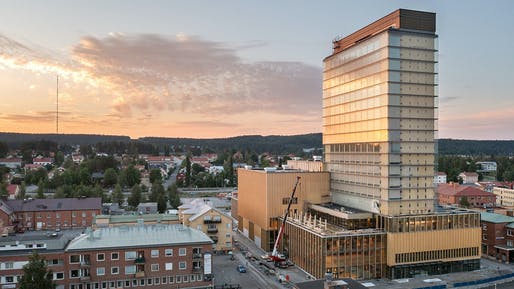 World's third tallest wooden building now open. White Arkitekter's new mass timber tower recently opens as the world's third tallest wooden building. A new Swedish tower is pushing boundaries for mass timber design in an effort to create a "public living room" for one small city just south of the Arctic Circle.
The Sara Cultural Centre is the second tallest wooden building in any Scandinavian country and the third tallest in the world behind Voll Arkitekter's 18-story, 280-foot Mjøstårnet near Oslo and the 276-foot HoHo Tower in Vienna.
Located in Skellefteå, the 246-foot Centre plays host to an art gallery, museum, library, and theater in a multi-volume carbon-negative building that also features welcoming amenities like a high-rise restaurant, hotel, and spa.
"The Centre is realized with timber as a massive, structural material, not just a surface layer on top for show," designers Robert Schmitz and Oskar Norelius offered in a statement. "It's solid, warm, and human and you can feel it. Solid columns, beams, slabs, and walls shape the rooms and give them their own unique expression."
"We want people to witness the amount of creativity that occurs behind-the-scenes," Schmidt said. "From the street, people passing by will be able to see how a new exhibition is being built, or how a stage set is coming along."
"[Sara] is an inclusive treasury for the ways in which people interact with each other, their community, and their culture," she said. "It has spectacular and bewitching spaces that offer professional creators the means by which to inspire and electrify. But this does not preclude the same energising arenas helping to coax beauty from those in our wider community who are driven to create."
Tags: Sara Cultural Centre, White Arkitekter, wooden building, wooden tower, woodworking and manufacturing, woodworking industry, woodworking technology