WMF 2019 creating connection across industries
Published on :Thursday, July 25, 2019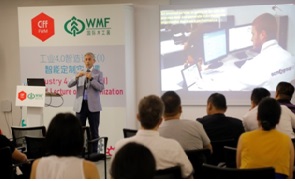 Once again the Woodworking Machinery Fair is gearing up to showcase a wide array of the state-of-the-art equipment and technologies for production of wood products and furniture between September 8 to 11, 2019. The fair is about supporting the sustainable development of the entire industry. The Shanghai International Furniture Machinery & Woodworking Machinery Fair (WMF) is once again ready to connect international enterprises for vast business opportunities.
The Shanghai International Furniture Machinery & Woodworking Machinery Fair (WMF) has achieved unprecedented success in 2018. Exhibitors and buyers found the fair fruitful where they could see upstream and downstream enterprises in furniture and woodworking industry gathering around in the same platform. It has successfully helped exhibitors and buyers forge closer relationships and tap into business opportunities. Some exhibitors and buyers signed cooperation agreements on the spot, they include Sunds Fibertech AB, Dieffenbacher, Anthon GMBH, IMAL & PAL,etc.
With the view of benefiting the woodworking and furniture manufacturing industry at large, WMF will be grandly held again in the month of September 2019 and upgrade itself by taking a step forward to Industry 4.0. In collaboration with CIFF (Shanghai) again, WMF 2019 will exhibit the finest innovations at the global platform.
WMF 2019 Connects Upstream and Downstream in the Industry
In WMF 2019, it is expected to have more than 400 exhibitors with over 1,000 pieces of woodworking and furniture production machines in53,000 sq.m. exhibition area. A wide variety of exhibits listed below are classified into different categories, in order to facilitate buyers in the entire supply chain to source according to their needs.
Automated and Economical Technologies and Equipment in WMF 2019:
Machinery for Custom and Mass Production
Wooden Architecture
Automation Machinery & Accessories
Green Production & Safety Control
Wood Based Panel Production
Wood Products Packaging
Wood Primary Processing
Machinery Accessories and Hand Tools
Sawmill Technology
CAD/CAM
WMF 2019 offers more than just an exhibition. There will be a series of conferences and business matching service available concurrently for buyers to get latest market news and effectively identify potential suppliers.
Tags: furniture machinery, WMF, woodworking fair, woodworking indsutry