WoodEX Africa 2023 – a few days to go
&nbspThursday, June 8, 2023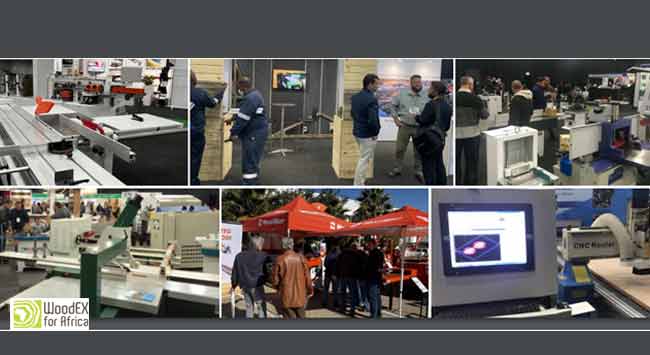 Soaring positive promises for the market, WoodEX returns with its 7th edition from June 27 to 29 at the Gallagher Convention Centre, Johannesburg, South Africa. WoodEX for Africa, with the support of strategic industry partners, offers a unique business and networking platform to connect, unify and grow the African timber, tooling and machinery industry turning the exhibition into an ultimate machinery, tools and supplies gathering in Africa.
An event not to be missed, WoodEX for Africa will be held alongside the 3rd edition of the Deck & Flooring Expo and co-located with Africa's biggest construction expo, the Big 5 Construct Southern Africa and the African Smart cities Summit WoodEX for Africa is a dynamic and lucrative platform in Africa for trade and industry to connect.
From the biggest CNC machines to the smallest screws, from the loggers of the great outdoors to sleek laminated flooring, WoodEX for Africa plays host to the most specialised, yet comprehensive range of equipment, tools, machinery and wood products available on the market.
WoodEX for Africa hosts exhibitors showcasing innovative timber and woodworking products and services, such as woodworking machinery, fixtures and fittings, decking, flooring, structural timber, timber preservatives and treatment, sawmilling and logging, pulp and paper manufacturing, and wood material and veneer production.
Better together
WoodEX for Africa and the Deck & Flooring Expo together with Africa's biggest construction expo, the Big 5 Construct Southern Africa plus the African Smart cities Summit presents the ultimate industry focused trade expo in Africa for 2023. Held for the past eight years, the Big 5 Construct Southern Africa expo provides a unique platform to engage with key industry stakeholders and to conduct valuable business. The African Smart Cities Summit is Africa's only dedicated conference that explores how smart cities can deliver a quality life and enable economic growth through IoT, technology and creative thinking. Providing African solutions for Africa's cities, this high-profile conference will tackle Africa's readiness to fully adopt smart methodologies for implementation to current infrastructure.
Tags: wood and panel, WoodEX, woodworking, woodworking and manufacturing, woodworking and processing, woodworking event, woodworking industry, woodworking UK