Wood-Mizer launches entry-level sawmill
&nbspWednesday, November 23, 2022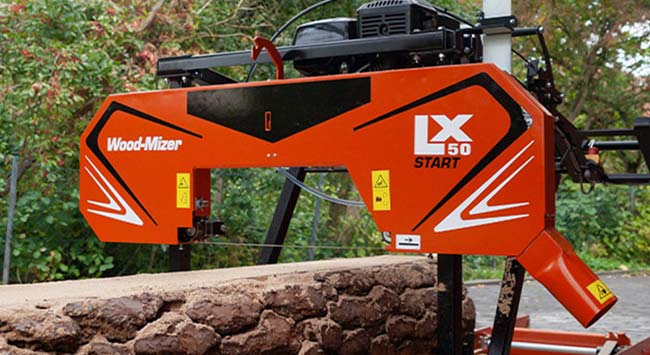 Wood-Mizer has expanded their LX sawmill series with the compact and entry-level LX50START for manufacturers that mill logs occasionally in low volume.
The LX50START sawmill is the second model from the LX50 range of compact and economical Wood-Mizer machines, which, along with the LX50CLASSIC, is suited for homeowners, forest owners, and all users who need to cut logs from and produce timber on their own.
"The success of the LX50CLASSIC has proven that there is a growing demand for less expensive sawmills while customers still expect good quality, precision, and reliability from these products," commented Hubert Powietrzyński, sales manager at Wood-Mizer Industries, Poland.
Wood-Mizer has designed the LX50START sawmill for small businesses and amateurs who need to make their boards quickly and inexpensively. This sawmill will match farms, rural households, private land owners, and locations near parks and forests.
According to Wood-Mizer, all the sawmills in the LX series feature a double-sided saw head feed system, allowing for increased cutting stability and precision. The LX50START can mill logs with a maximum diameter of 60cm and produce 40cm-wide boards or cants.
The LX50START sawmill head is fitted with a manual feed system for up or down and forward or backward movement, which allows for a stable and intuitive operation. The sawmill blade cleaning system keeps the blade, blade wheels, and guide rollers clean by removing sawdust, resin, or bark. The blade tensioning mechanism and the blade guide arm reduce vibrations and secure high sawing precision.
The LX50START sawmill frame is manufactured from high-quality steel, and, in the standard version, the bed consists of three segments of a total length of 3.2m. The bed can be extended with more segments, each 1.33m long, for sawing longer logs.
The standard S3-type bed features two sturdy side supports and one central log clamp, while it can be optionally equipped with a set of adjustable bed leveling legs. Some useful sawmilling accessories for the LX50START include a cant hook for loading and turning logs onto the bed and a log taper wedge for sawing uneven logs.
Wood-Mizer reported that all their sawmills use an ultra-thin sawmill band blade to increase yield from every log and reduce sawdust production. The LX50START uses a 1mm-thick and 32mm-wide sawmill blade that requires minimal engine power, lower fuel consumption or less electrical energy. The LX50START can be equipped with a 4kW electric engine or a 7 or 14HP gasoline engine.
Tags: Forestry, ligna, log, sawmill, WoodMizer, woodworking, woodworking and manufacturer, woodworking and timber processing, woodworking technology, woodworking UK