Vecoplan ushers in powerful solutions to implement circular economy
&nbspMonday, June 19, 2023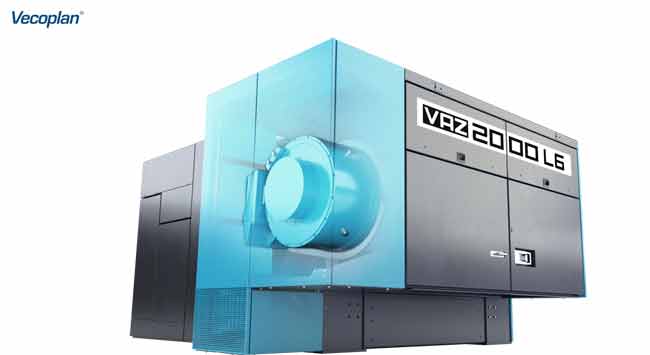 Have you ever thought of adopting responsible waste management? Recycling and waste management now turns real with the support from Vecoplan as it revamps the VAZ shredder series with the latest benchmarks in industrial design creating opportunity to actively shape change and implement circular economy.
Taking recycling into their own hands
Processors can quickly and cost-effectively satisfy the demand for high-quality recyclates by taking reprocessing into their own hands and following a holistic approach. The shredding of the materials is particularly challenging. For example, yarns, fibres and filaments are available in different thicknesses, in various and often extreme lengths and are made from various plastics.
Focused on energy efficiency
Vecoplan relies on its exceptional HiTorc drive to achieve the best possible energy efficiency during shredding. Thanks to eliminating mechanical drive elements such as belt and gear drives, flywheels and clutches, the direct drive is 10-15% more efficient. The HiTorc is dynamic, has a strong start-up phase, is low-maintenance and is insensitive to extraneous materials.
Technology is key
Achieving the optimal coordination for the case at hand then continues with the selection of the ideal cutting unit, and here Vecoplan technicians work closely with their customers.
A powerful solution
To meet the high demands for the recycling of very different materials, Vecoplan revamped its proven, successful VAZ shredder series with the latest benchmarks in industrial design – and presented the series for the first time at IFAT in May 2022. The modular design of this single-shaft shredder particularly convinces users. "It allows operators to use the series universally and get the right answer for a wide range of applications," promises Schmidt. "We have many options for configuring and adapting the machine to the task at hand. These choices and the relevant combinations are critical to the performance and quality of the shredding process."
The new shredder is also equipped with the Vecoplan Smart Center (VSC), Vecoplan's powerful digitalisation concept for the maximum efficiency of shredders and systems. The integrated and intuitive VSC.control operating panel serves as a communication medium for the cutting-edge control of the machine and direct communication with Vecoplan. VSC.connect enables users to network their machines and access additional online services, such as remote service, key performance indicators and even a media database.
Tags: circular economy, plastic waste management, shredder, sustainability, vecoplan, Vecoplan Smart Center (VSC), wood, wood and panel, woodworking, woodworking and manufacturing, woodworking and processing, woodworking industry, woodworking UK