Schuler Consulting achieves Top Consultant Award for the third time
&nbspTuesday, June 27, 2023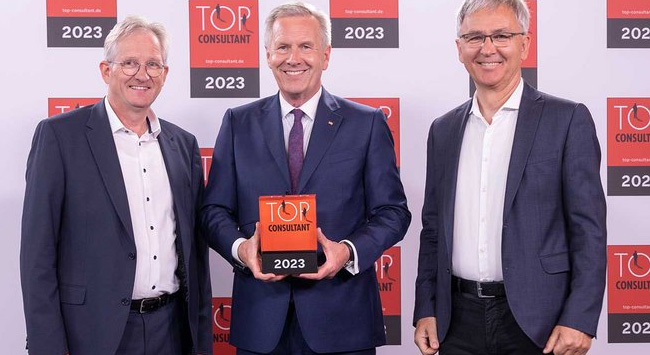 It is a great time for Schuler again as they have received the TOP Consultant Award for the third time. The top SME consultants in Germany are honoured by this award.
For more than 65 years SCHULER Consulting GmbH has been providing its clients in the international timber and furniture industry with significant competitive advantages. As one of the few companies in the industry worldwide, it provides holistic advice on digitalisation, manufacturing and organisation with its range of services. The continuous development of this expertise and its application is a challenge that Head of Consulting Florian Hauswirth and his team master anew every day.
"Our goal has always been to help our customers achieve sustainable success," explains Florian Hauswirth. To achieve this, SCHULER Consulting relies on innovative solutions that take a holistic view of digital and physical business and production processes – for companies of all sizes, from small carpentry businesses to large furniture manufacturers.
What makes the consultants special is their high level of practical relevance and their connection to wood as a material. All consultants have academic qualifications in the fields of woodworking and furniture manufacturing, have a high level of expertise in digitalisation and information flow and have also completed a carpentry apprenticeship.
Working internationally and being highly skilled
The 30 staff spread around Europe, North America, and Asia work closely with the customers because of their extensive industry experience. The clients are given a roadmap so they can carry out the planned actions for every optimisation project as well as every strategic information flow planning project.
"These concrete roadmaps, based on client-specific data and facts on the one hand and the entrepreneur's vision on the other, are what distinguish our work," Hauswirth is convinced.
From 5 to 50 timber houses a year thanks to consulting
This means, for instance, that SCHULER Consulting assists smaller carpentry enterprises and medium-sized organisations in strategic expansion planning with reference to the effective building of prefabricated homes using wood as the primary material.
"The market is starting to boom. But in order to be able to build ten times as many wooden houses per year in the future, three new machines are not enough," the Head of Consulting sums it up. Rather, production must be completely re-planned. His team of consultants combines proven methods with digitalisation and automation and paves the way for increased performance.
Tags: achievement, digitalisation, Florian Hauswirth, furniture industry, international timber industry, production processes, Schuler Consul;ting, SME Consultants, Top Consultant award