Rehau introduces face shield for everyday protection
Published on : Wednesday, July 1, 2020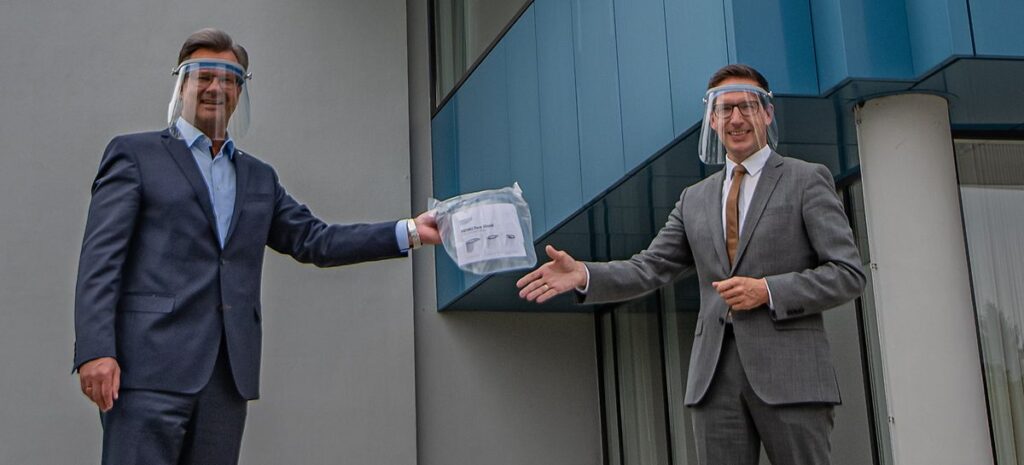 Rehau recently responded to the demand for protective equipment by developing the Rehau Face Shield. Face protection shields "Made in Germany" for the city of Rehau has been introduced to maintain social distancing. As the world is limping back to new normal work environment and contact options are increasingly relaxed, more and more professional groups need effective and everyday protective equipment. The face shield is an important building block. Wherever people meet and the distance rules cannot always be guaranteed, it is an effective addition to mouth and nose protection.
Rehau responds to the demand for protective equipment by developing the Rehau Face Shield. And not for small quantities, such as those that can be produced using 3D printers, but as an industrial series product – with quantities of 1 to 50,000 copies per week. On the basis of its existing profile portfolio, Rehau manufactures various components for shield brackets, head brackets and forehead padding using existing tools. Additional elements will be contributed via the existing supply network.
Since the face shield is worn by most people for many hours, comfort and weight were decisive factors in the development. The result is a 155 gram face shield with a continuously adjustable folding visor and a Velcro fastener that can be individually adjusted to the shape of the head.
100 of the Rehau Face Shields have now been handed over to the city by Jürgen Werner, head of the Rehau divisions Furniture and Industrial Solutions and at the same time responsible for the location of Rehau. Werner emphasized: "It is not always possible for many people to keep the necessary safety distance when working. For these people, Rehau innovation is a sensible protection, even after the Corona period. "Mayor Michael Abraham added that it was impressive how local companies were committed to the general public in this difficult time. The city of Rehau will now distribute the Face Shields to the teachers of the Rehau schools. The 100 Rehau Face Shields were produced and assembled in the Rehau TC plant.
Tags: Covid-19, face shield, germany, pandemic, Rehau, stay safe, woodworking and manufacturing, woodworking industry
| | |
| --- | --- |
| | |
| | |