OVVO continues to expand its range of wood joining connectors
&nbspFriday, April 21, 2023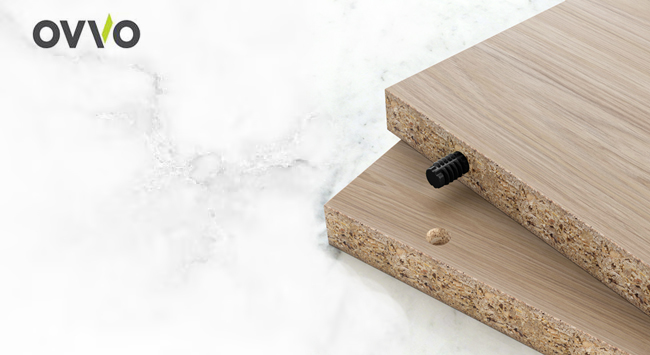 OVVO DOWEL (OD30) is the latest addition to the OVVO product family which is specifically designed to work in standard drill patterns. The OD30 is inserted into the panel without any glue to form a permanent joint in 15mm panels and above. These new connectors make it even easier for manufacturers to incorporate OVVO into their standard processes, saving time and money by eliminating glue and case clamping time. No additional equipment or capital needed to deliver tools free assembly products to the end customer.
This new self clamping, glueless, invisible OVVO Dowel (OD30) is designed for connecting cabinet parts and all types of furniture using standard drilled holes on BOTH sides of the joint, thereby simplifying the panel processing operations while continuing to provide all of the benefits of OVVOs' proven tools free assembly methodology.
Established in Ireland in 2014, the OVVO brand has gone from strength to strength, picking up numerous highly regarded industry awards along the way. Most recently awarded "Outstanding Furniture Accessories" award at Interzum-Guangzhou in April 2023 for the innovative connection system, the relentless quest to make life easier for people ensures that simplicity is at the heart of every new product: with each new product developed, the OVVO range has become more accessible to manufacturers, with the ability to be integrated into existing production processes, and suitable for a wide range of production capabilities.
All OVVO connectors are designed for high-volume, automatic insertion, and ongoing partnerships with leading software providers Cabinet Vision, TopSolid, iFurn, Swood and Cabinet Sense ensure that manufacturers can easily incorporate OVVO into their existing processes, and also into new product design and development.
All OVVO connectors can be installed into a variety of materials ranging from high-quality hardwoods to low-grade particle board, and our recyclable plastic means any waste is put back into the production of our product. OVVO works best in boards >12mm thickness and is available in a range of sizes to perfectly match your requirements. All connector sizes are available in both PERMANENT and RELEASABLE options, extending the range of materials and opportunities to inspire creative design and innovative development.
Consumer demands are shifting more and more towards convenience and sustainability. OVVO helps you meet those demands and give your products a competitive edge. Our team is on hand to support your switchover to OVVO and help you take the next step of innovation.
Tags: clamping, connectors, FURNITURE ASSEMBLY, Interzum, OVVO, SWOOD