Ostermann advances decorative edge banding solution
&nbspWednesday, December 7, 2022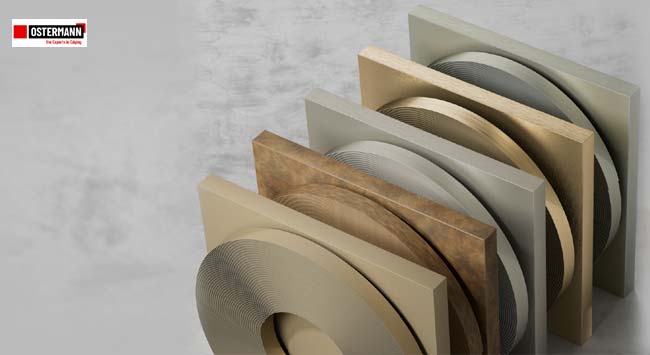 Opulent furniture is now perfected by Ostermann edge banding solution. Furniture in gold or with decorative elements in gold is back in style and Ostermann takes it to the next level with offers in various matching solutions for the narrow surface of the board.
"We have already gotten used to the sight of gold-coloured accessories in interiors again. In the future, you will even find the elegant colour again on entire furniture surfaces. Ostermann has the right edgings in store to cover the narrow surfaces. Among these, ABS edgings with a real aluminium finish are a particularly high-quality solution. They are just as easy to process as standard ABS edgings. A thin layer of real metal gives their surface a realistic look. But even with ABS material alone, soft gold tones can be created. In the following, the Ostermann experts present five selected solutions that round off golden surfaces or highlight furniture when used as accentuating edging. All versions presented here are available directly from stock and can be shipped in small quantities from 1 metre."
Blending pieces of Gold:
Touches of gold look particularly elegant on anthracite grey or black plain boards. Whether you combine them with glossy or extremely matt surfaces does not matter. What counts is the end customer's personal taste and, of course, the setting in which the furniture is supposed to be placed. A golden edging can also be applied to dark wood decor boards, giving them a stylish finish.
Ostermann has all furniture edgings readily available in their own warehouse. As stock items, they can be ordered by 4 p.m. to be shipped on the same day. In order to maintain this pace even with the growing variety in the product range, the company is continuously investing in state-of-the-art storage and shipping technology.
The pre-coating of the selected edging with hotmelt adhesive is just as much part of the Ostermann service as the delivery of so-called TPU zero bondline edgings.
Tags: decorative edge, Edgebanding, furniture design, opulence, Ostermann, wood, wood and panel, woodworking and manufacturing, woodworking and processing, woodworking UK