Liquid Coating System from Hymmen: to fulfill demanding requirements
&nbspTuesday, March 31, 2020
Hymmen has been build on enduring values that ensures strong and enduring partnerships with their customers. They plan and design individual solutions that are tailored to the requirements of their customers. The solutions they offer are based on their wide-range process expertise and knowledge. Recently, they have once again proved their professionalisation over production technology. They have offered liquid coating systems for the most demanding requirements.
Furniture surfaces, customer-specific doors, or building material boards of the highest quality – manufacturers rely on production technology that permanently and reliably ensures the quality requirements for their products. And all this while taking optimal production efficiency into account. The Bielefeld-based machine and plant manufacturer Hymmen supports furniture, door, floor, and building material board companies as an established partner for liquid coating technologies in a wide variety of applications.
In many cases the production of high-quality doors and furniture, for example, still has a manufactory feel to it, even if it does take place in an industrial environment. Linking individual production steps and several coating lines to complete inline production, from mounting through priming and painting to stacking, offers great potential for increasing production efficiency and reducing costs.
Hymmen has already brought the individual production components together in numerous projects and ensured overall control. In addition to the installation of completely new systems at a new location, there are examples of redesign projects in which the conversion measures were carried out step by step during ongoing production. Hymmen was able to impress these customers with its technical competence, process expertise, sophisticated knowledge in process automation, and, above all, the high quality of its machines.
Project progress
The preparation of a plant project usually begins with exploring the initial framework conditions after the manufacturer's decision to expand production capacity, to redesign relevant production processes, or to make replacement investments. The Hymmen technology center offers a unique opportunity to test substrates, paints, and other process parameters. In this way, the customer's own specialists can optimize and determine the process parameters with the Hymmen product managers and process experts before the final contract is concluded. Almost every product structure can be fully mapped in the 2,500 m² Hymmen technology center.
Hymmen's primary objective is to bring each of its customer projects to the best possible conclusion for all parties involved. The company's professional project management serves as a quality guarantee here. The key success factors are the following:
A constructive solution-oriented approach facilitated by a cooperative partnership with customers
Clear understanding thanks to transparent communication and documentation
Disclosure of time wasters and cost drivers through interim goals fixed in terms of content and time
After the commercial order confirmation by Hymmen, the project is officially kicked off with the customer. A Hymmen project manager will be on hand to assist customers at all times. Once the technical aspects of the order have been clarified, the design freeze follows. The joint communication runs via the Hymmen project portal with to-do lists, log archive, construction site log book, etc. Changes to the scope of delivery and services after the design freeze are fundamentally supported and implemented. Consequences for the overall project are reviewed, and the change effort and expenses are calculated and offered. The scheduling takes place once the explicit decision to change has been made. After delivery from the factory, the next milestone is the production of the "first board" on the customer's site. This is followed by the start of production or site acceptance in order to achieve final customer clearance.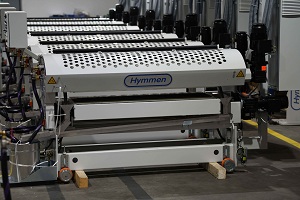 Possible scope of delivery in the liquid coating sector
Hymmen's product portfolio in the liquid coating sector includes a range of individual machines from roller application machines (ULX, UME-UML) to filler application machines (RSU and UMS), curtain coater (MTC), direct printing machines (DCP), and one-man coating machines (Proficoater PFC) to glue and hardener application machines (TLA, TLZ, UMA, and UMZ). In addition there are hotmelt application machines (UMT), UV drying modules (UVM), and jet dryers (DST). However, most Hymmen customers rely on the process expertise of the machine and plant manufacturer. In addition to linking the individual machines with the associated handling equipment to complete production lines, this also includes process control. In this way, Hymmen can draw on the expe-rience of over 50 years in the roller coating sector. The machines are known for their durability, even when run 24/7.
In theory, a liquid coating system, for example, can comprise several ULX series liquid coating machines for priming and applying the final varnish using rollers (see Fig. 2a), using curtain coater (MTC), and the control of the entire order processing including work prepara-tion. Glue application machines (UMA) can also be used in liquid coating systems. The specially developed CalanderCoating Inert (CCI) technology is used for the special case of producing high-gloss surfaces or super-matte lacquer surfaces. Other essential compo-nents of complete systems may include disc or roller transport units with UV dryers or jet dryers, various portals and paternosters, and board turnover machines. Robots are increasingly used for loading and stacking.
Recently, Hymmen was able to sign yet another well-known company: Schörghuber, a specialist for the production of high-quality custom special doors (security, fire protection, wet room doors, and other fields of application), is currently receiving a complete liquid coating system from Hymmen.
Tags: demanding requirement, Hymmen, liquid coating systems, production technology, professionalisation