LIGNA.23- a look into the future
&nbspThursday, February 16, 2023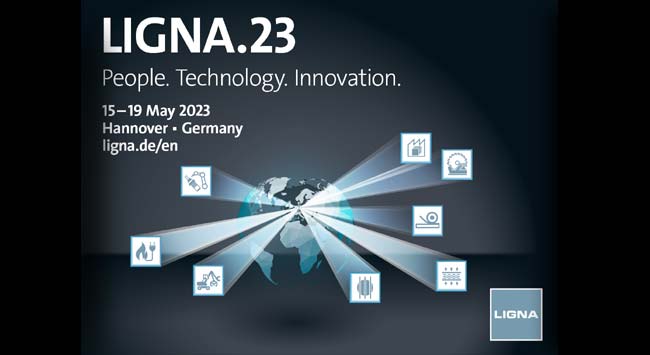 The global woodworking industry returns to LIGNA in May and blends expectation with reality as the leading brands gear up to bring their innovations at the show. Transforming the woodworking industry through optimism and innovations these companies Biesse, Hymmen, Leitz, Leuco, SCM, imos, Cefla Finishing, Kleiberit, Bacci, Weinig and so on are attending to showcase a bouquet of innovations at all level.
A sneak peek to LIGNA innovations:
Biesse returns to LIGNA, the world event for woodworking technology, they will exhibit new visual identity that represents the corporate renewal process and actively expresses the group's values and identity centred on multi-materiality and being inherently international, while preserving the features that distinguish the various sectors in which it operates. It's an evolution that will enable the company to compete in ever-changing international markets and bring tangible benefits to customers.
"We look forward to meeting all who visit Hall 11 to discover the group's evolutionary journey and its emphasis on multi-materiality, which distinguishes Biesse from its competitors," says Ettore Vichi, Chief Regional Officer EMEA and APAC. "High-tech solutions, integrated systems and lines designed to accommodate the needs of manufacturing companies wishing to strengthen and increase production performance will be in action," Vichi concludes.
imos wishes to take the industry into the future
In the usual two-year cycle and after a four year break from trade shows, imos AG is pleased to present its new software version imos iX 2023 live and in person at LIGNA 2023. The latest version of the iX technology series has been optimised in the context of current trends and requirements.
Cefla finishing smart factory
All spheres of woodworking and manufacturing will once come into play at the Cefla stand and bring solutions through digital, virtual and physical expertise. Under the Automatic spraying machines/ robots for spray finishing product group Cefla Finishing will exhibit machines that provides Digital printing solutions,Düspohl will present its latest RoboWrap development at this year's LIGNA, Spray coating equipment and Omnidry with Flexpro function solutions.
SCM's Smart&Human Factory has once again been updated, new automation systems and human, machine and robot interaction for a highly customised, versatile, interconnected and sustainable production.
Also making its début at the trade fair is an integrated cell for small businesses and many other new entries for all the application areas in secondary wood processing visitors to LIGNA will have an opportunity to discover the vast range of new products developed by the Italian Group to meet every production need when machining panels, solid wood, timber construction and artisan woodworking.
Leitz at LIGNA 2023 – Trends and innovations
Leitz will be presenting its latest developments as an exhibitor at LIGNA in Hannover. This year, the world market leader will be showing service concepts, industry focal points and trends from the furniture industry, structural timber engineering and advanced materials at its exhibition stand under the motto "Solutions in new dimensions". The focus here is on the claim to further increase customer success.
For VDMA Woodworking Machinery Association sees more opportunities than risks for the industry and maintains Optimistic outlook despite some challenges.
DIPA will put spotlight at LIGNA.Stage, the "future workshop" on digital printing that will highlight, among other things, the DIPA Academy as a solution to the acute shortage of skilled workers, the use of artificial intelligence in the digital printing process, and the need to build an ecosystem of its own in the digital environment of different machine manufacturers, technologies, and a wide variety of materials.
Fagus-GreCon considers itself well positioned for the trade audience at LIGNA and LIGNA is probably the most important trend barometer for the entire wood-based materials industry. "We have a lot of new products on offer and are looking forward to presenting them to the trade public," says Uwe Kahmann, Managing Director of Fagus-GreCon.
Under the motto "Resource Efficiency E4", Lignum Consulting utilises four key areas of efficiency: Material, Process/Information, Human Resources and Technology and strengthens industry.
Tags: Biesse, DIPA, ligna, wood, wood and panel, WOODTRANSFORMATION, woodworking and manufacturing, woodworking and processing, woodworking industry, woodworking UK