LEUCO p-system mills inclined profiles in MDF
Published on :Wednesday, March 25, 2020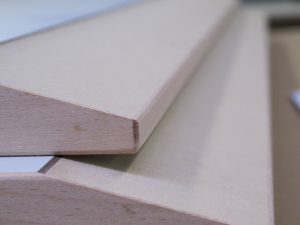 The Ruhsi company is happy to announce that they are using the advanced Leuco p-System milling cutter on a 5-axis machining centre for milling inclined profiles in MDF. This milling cutter has the well-known 70° axis angles patented by Leuco and also has the shape of a truncated cone.
Benefits of this p-system milling cutter
Short length, so that the dust hood can be entirely closed
Lightweight that the permitted tool weight of the 5-axis
Machine does not get exceeded
Stable, cutting quality meets the high demand
Flexible, tool can do complicated elliptical toolpaths as well as simple flats
Clever, intelligente design combines 70° shear angle together with no risk that the 5-axis head at maximum swung-out state could collide with the interfering contour of the component
Ruhsi has achieved its goal – complete processing with as many steps as possible being completed at a single station. The production sequence is clearly optimized. And why the tool is profitable for Ruhsi on top of everything else – it doesn't need sharpening until after nine months of continuous usage.
Choices:
The p-System truncated cone milling cutter with all the advantages of the 70° axis angle can also be designed with a profile. Thus it is possible to mill e.g. inclined profiles including curves in one operation.
The Leuco p-system milling cutters for straight and curved profiles are the result of customer requests to eliminate individual bottlenecks in their production and optimize their manufacturing.
Tags: germany, Leuco, p-system mills, tooling, tools, woodworking and manufacturing. MDF