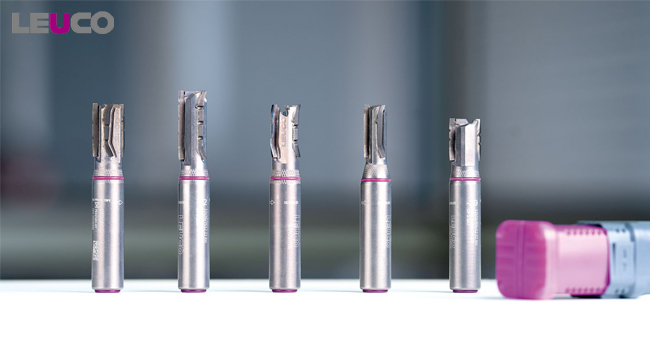 For the first time at LIGNA, LEUCO is presenting the woodworking and processing industry with a completely new, patent pending concept for arranging cutting edges on basic tool bodies. Another novelty at the show is the regeneration of fixed slide milling cutters. The advantages of the various innovations are wide-ranging, be it reduced power consumption, longer tool life, better edge qualities or saving resources, etc. The research and development of machine tools for machining wood materials has always strived to find the optimum tool geometry. The engineers at LEUCO were inspired by nature and successfully transferred the Fibonacci principle to the tool world for the arrangement and distribution of the cutting edges on the basic body.
Regeneration of diamond tipped cutter:
According to the current state of the art in the industry, the life cycle of a diamond-tipped cutter ends as soon as the cutter can no longer be resharpened due to a too low tipping height. Exclusively for the two market-relevant diamond-tipped jointing cutters "LEUCO DIAMAX airFace" and "LEUCO DIAREX airFace", a new technical process at LEUCO allows the option of brazing out the worn cutting edges, brazing in new cutting edges and eroding them.
Innovations for panel sizing saw blades – Focus on long tool life
In the future, LEUCO users will be able to choose between "carbide" (HW) and "diamond" (DP) tipped cutting materials for panel-sizing saw blades in all performance classes and applications.
Diamond for the universal cut-to-size saw blade "LEUCO U-Cut"
From LIGNA 2023 onwards, LEUCO will also make diamond attractive for coarser applications. The already familiar HW- tipped panel-sizing saw blade "U-Cut" with trapezoidal flat bevel tooth will then be available as a robust DP version with at least 20 times the tool life of its HW counterpart.
Diamond for the finish cut saw blade LEUCO Q-Cut
Starting at LIGNA 2023, users will now be able to obtain a counterpart with DP teeth with 20-fold tool life in addition to the HW-tipped Q-Cut program that has been successfully established on the market.
Machining on CNC: Nesting with LEUCO "DIACURVE" shank-type cutters
The special feature of this type of cutter at first glance is the arc- shaped or curved cutting edge shape and the unusual design of the diamond tablets. This design is a completely new manufacturing and milling concept.
Further to this, LEUCO is adding four applications to its patent-pending t3-System insert milling cutter with the cambered triangular inserts at LIGNA 2023.
The basis for the digital twin is either digital data provided by the tool manufacturer with the new tool, or the company serializes its inventory at a later date. LEUCO supports the push into digital processes and will show a multi-stage model for the post-serialization of inventory tools at LIGNA.
On the broad topic of sustainability, LEUCO will also focus at LIGNA on examples that can be used to define sustainability on tools.