Lamello advances cordless freedom with Zeta P2
Published on :Thursday, May 19, 2022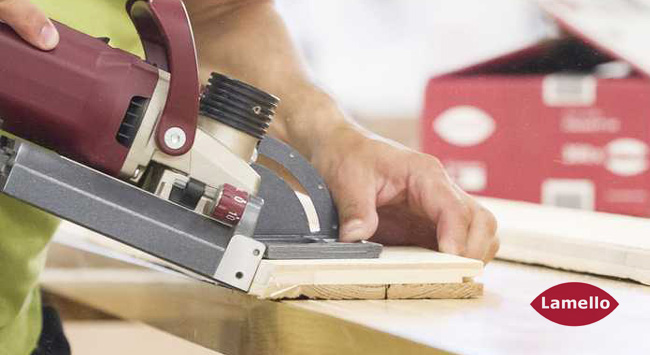 Lamello usher in cordless freedom with Zeta P2, the new powerful P-System biscuit joiner that may be used for perfecting grooves with creative freedom. The cordless Zeta P2 is the profile biscuit joiner for even faster joints, suitable for use with P-System connectors. It is used to create the form-locking P-System groove within seconds, and is even more flexible to use thanks to its battery drive. The integrated vertical mechanical drive is automatically triggered at the maximum cutting depth and performs a lateral cutter movement for the P-System groove. Connectors with various functions and different sizes can now be inserted into the form-locking P-System groove without the need for any tools.
Key features of the new tool:
For the fast, form-locking anchorage of all P-System connectors in all angles
Thanks to the cordless freedom, there are no tripping hazards during daily use
The automatic vertical movement creates a profile groove enabling insertion of the connectors by hand
Innovation driven Lamello, introduces the Zeta P2 cordless that may be perfectly used for standard wooden biscuits by rotating the P-System depth adjuster to OFF to switch off the vertical mechanical drive. The 7 mm P-System cutter is replaced with the 4 mm groove cutter.
In addition to vertical stability resulting from the larger contact area, the stop quare enables variable adjustment of the groove position, 0-50 mm. The tools are equipped with a powerful 18V LiHD battery pack from the CAS battery system available in two sizes with 4.0 Ah or 5.5 Ah.
"Lamello's system solutions are synonymous with quality, innovation and excellent functionality, and are used across the globe where they have proven their worth millions of times over!" Susanne Affolter, Managing Director and Owner at Lamello AG.
The new tool will be available in Europe from September 5, 2022 for all users.
Tags: cordless tool, Lamello, p-System, processing, Tooling, wood, woodprocessing industry, woodworking and manufacturing, woodworking industry, woodworking tooling and manufacturing, woodworking UK, Zeta P2

Read Magazine Online