Kleiberit enriches industry with hotmelt adhesives and reactive hotmelt adhesives
Published on :Wednesday, August 11, 2021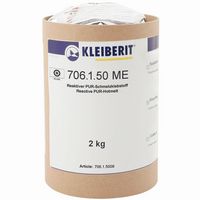 Kleiberit has enriched the industry with hotmelt adhesives and reactive hotmelt adhesives. Adhesives are probably as old as mankind itself is and have always been an irreplaceable part of our everyday lives. Kleiberit has introduced adhesives suitable for various industry.
Nowadays, adhesives can be found in almost every everyday object. Like our everyday objects, the adhesives used in them are subject to constant evolution. This evolution has been massively accelerated in recent decades. Many new products and production processes have ensured that bonding as a joining technique has developed greatly. The adhesives market has increased rapidly over the last century. An enormous variety of different adhesive types has been developed.
Industrial Adhesives must meet high Requirements

The requirement profile of an industrial adhesive depends, for example, on the materials to be bonded. Plastics, wood and wood-based materials, metals and mineral materials are bonded together in countless applications. Depending on the purpose, an adhesive bond should have certain properties. Flexible, rigid, removable or permanently strong are typical requirements. Furthermore, long-lasting durability is important. Strong temperature fluctuations, chemicals, humidity, weathering or mechanical loads can stress an adhesive bond.
The requirements for the manufacturing process of a product and the associated economic efficiency also play a major role. Industrial adhesive systems are often processed in automated production processes. At the subsequent user, they are then brought to a processable state by means of special melting equipment and transported via suitable conveying units to the application units, such as a slot nozzle, spray nozzle or roller. The processing techniques in the adhesive processing industry are diverse. In most cases, the goal is always the same – high production speeds and a bond perfectly matched to the application.
Hotmelt and reactive hotmelt adhesives score for their high level of customizability

Every adhesive joint, including its production process, has its own specific requirements. Countless converting processes realize countless joining methods. In industry, hotmelt adhesives have proven to be particularly adaptable.
Tags: adhesives, hotmelt adhesives, Kleiberit, ligna, woodworking and manufacturing, woodworking event, woodworking industry