JOWAT bagged Axia Best Managed Companies Award
Published on : Saturday, May 16, 2020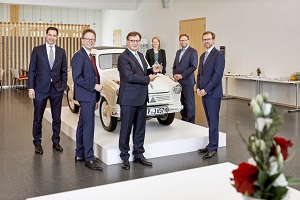 The board of Jowat SE received the coveted award last Wednesday in the company's own "Haus der Technik" in Detmold. "We understand this award as recognition for Jowat's innovative strength and our aspiration to always develop optimal and sustainable solutions for our customers," says Ralf Nitschke, board member of Jowat SE.
The Axia Best Managed Companies Award (BMC) is an international seal of approval for successful medium-sized companies awarded by the auditing and consulting firm Deloitte and the "WirtschaftsWoche" in cooperation with the Federation of German Industries (BDI) in Germany. They shape the future with strategic foresight, innovative strength, a sustainable management culture and good corporate governance. "Above all, it is the international character that makes up the Axia Best Managed Companies program," says program manager Markus Seiz from Deloitte. "The award gives the award winners access to a worldwide network of excellently managed medium-sized companies from more than 20 countries."
The winners of the Axia BMC Awards are determined in a multi-stage, complex process. The first step is for companies to complete an online questionnaire that highlights their position in the four core areas of the award: strategy, productivity & innovation, culture & commitment, governance & finance. Based on the application documents, evaluations and personal interviews, the expert council of the Axia Best Managed Companies Award defines a shortlist. The winners will then be selected by a jury consisting of renowned representatives from business, science and the media.
"As one of the award winners, Jowat also impresses with its first-class corporate management – thanks to its high level of innovation, a long-term strategy and strong governance structures. Jowat is not only a benchmark for excellently managed medium-sized companies, but also symbolic of the future of Germany as a business location, "emphasizes Lutz Meyer, partner and head of the medium-sized company program at Deloitte.
For the adhesive manufacturer Jowat, which has been successfully operating on the market as a medium-sized family business for more than 100 years, this award means a high esteem for its entrepreneurial activity and is at the same time motivation for the consistent expansion of its international role as a leading provider of innovative, tailor-made and sustainable adhesive solutions.
Tags: "Haus der Technik", adhesive expert, Coveted Award, Detmold, excellently managed company, Jowat SE, Lutz Meyer, partner and head, sustainable adhesive solution, winner
| | |
| --- | --- |
| | |
| | |