interzum 2023 puts spotlight on Circular economy
&nbspTuesday, February 7, 2023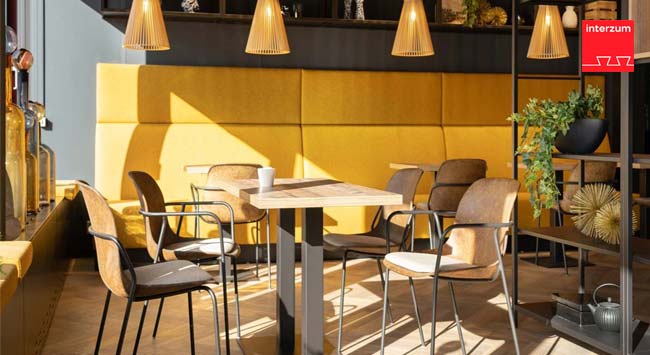 interzum 2023 will be showcasing plenty of innovations in sustainable materials for furniture and interior design industry.
interzum 2023 will bring forth the exciting innovations already under development and demonstrating the potential they offer for the supplier sector.
The winds of change have been blowing in the international supplier sector for furniture and interior design too. Promising new developments are preparing the path toward low-emission material and product cycles. Around the world, research is being carried out, new ideas are being tested and innovative solutions are being developed.
Transitioning to circular economy:
Working together to boost sustainability
With its key topic of neo-ecology, this year's upcoming interzum will be focusing on transforming the economy to make it more circular.
The most important megatrend of the next decade, neo-ecology describes a shift in the values of society as a whole towards a circular consumerism that is in harmony with the mechanisms of nature. As the industry's leading international trade fair, interzum is aiming to create fresh momentum and drive forward the collective dialogue.
Innovative: bio-based materials:
Future agency Haute Innovation is demonstrating the importance of circular thinking in the latest material innovations. Under the title "Sustainability Matters", the experts from Berlin are curating the Materials & Nature Trend Forum at interzum 2023. With pioneering innovations, they will be showcasing materials and technologies that fit the circular economy concept, along with their potential applications for the furniture and interior design industry.
According to Dr Sascha Peters, who directs the Haute Innovation agency together with Diana Drewes, "achieving maximum resource-efficiency is at the top of companies' agendas, along with use of materials that can be returned to the circular economy and reduction of CO2 emissions in production."
"A wealth of material innovations is springing up in this field, promoting the formation of circular business models and optimising use of the available resources," says Dr Peters. "Materials suitable for secondary recycling, which have been used very little up to now, are becoming more important as a result."
Tags: circular economy, Dr Sascha Peters, furniture industry, furniture manufacturing, germany, interzum Cologne 2023, Koelnmesse, trade fair, woodworking and manufacturing, woodworking UK