IMA Schelling presents new fine finishing units for perfect edge banding
&nbspMonday, September 12, 2022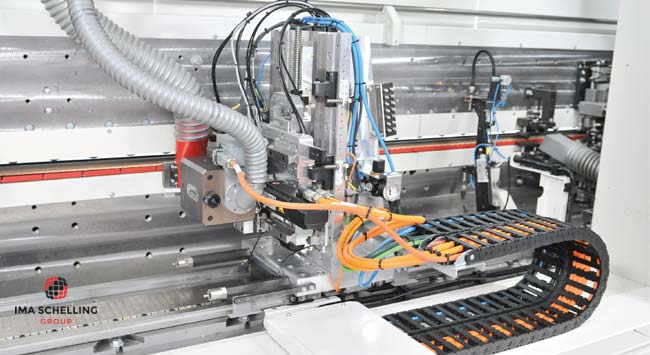 IMA Schelling takes edgebanding to te next level.
"For decades now, IMA Schelling has specialised in sealing the narrow surfaces of board-shaped workpieces with externally fed banding material so that the inside cannot be seen, and then providing a top-quality finish." This is how Dennis Reddig, Product Manager Edge Processing at IMA Schelling, summarises the extraordinary level of expertise that the company has in banding. This covers not only the sizing of the master boards and the application of the edges, but also addresses the finishing of the process.
IMA Schelling has now enhanced and optimised its machines and solutions for the final machining step, in which any protrusions and impurities are removed and special profiles attached. "We've made a number of adjustments to increase the quality of the automated finishing even further," notes Reddig.
Modules Simplified
The plant specialist first set about consolidating its modules. Among the items it standardized was the support design for its static fine finishing units, which reduces the spare parts inventory for customers. The units are now offered in a plug&play design and obtain almost all the supplies they need through a single interface.
The amount of energy used for chip removal has been optimized so the underpressure required for this process is now lower, reducing the power used by the fans and saving energy. IMA Schelling has also equipped the fine finishing units with absolute value axes. "This means that the axes always know their position and don't need to be referenced first, which saves time," explains Dennis Reddig.
New Unit for J-Profiles
Another optimisation will benefit batch size 1 production in particular. "Empirical evidence with batch size 1 and the associated mix of parts reveals a certain tolerance in the thickness of the workpieces. A 19 mm workpiece is sometimes 18.5 mm and other times 19.3 mm thick," observes Reddig. IMA Schelling has therefore equipped the units with a vertical adjusting motor and decoupled them from the overpressure. This allows the units to always position themselves perfectly relative to the workpiece, with an identical tracing path and tracing pressure in each case.
For the fine finishing of the currently very popular handleless furniture fronts, IMA Schelling has developed a new fine finishing unit. The I-KFA contour milling unit supports the automated fine finishing of profiles with inside contours in the corners, even if the profiles on the front or rear edge lie perpendicular to the processing direction. This enables J-profiles on these workpieces to be finished to a very high quality.
Tags: Dennis Reddig, edge band, Edge Banding, edge processing, finishing, IMA Schelling Group, wood, wood and panel, woodworking and manufacturing, woodworking industry, Xylexpo