IMA Schelling introduces automated warehouse logistics solutions
&nbspWednesday, November 9, 2022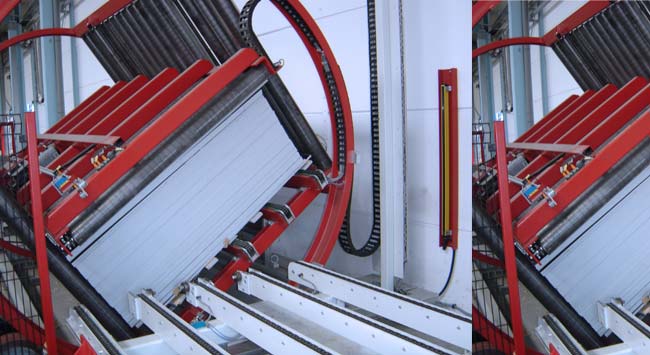 Higher performance and more flexibility are now possible with automated warehouse logistics for individualised panel production. Besides the industrial wood processing installations, IMA Schelling offers the required highly efficient logistics solutions for large panel factories. Together with the IMA Schelling "Board" business unit, the Austria-based manufacturer of wood-based panels, EGGER, has begun to optimize its material flow and warehouse logistics. The result: higher performance and more flexibility.
At IMA Schelling, the "Board" business unit has specialized in providing the logistic services. Both partners are currently optimizing the existing plant layout of a panel factory in close cooperation and in several expansion stages. The new work cell for efficient warehousing and order picking is individually tailored to the needs of the user.
Automatic sorting of the panels to be surfaced
Sanded raw panels enter the warehouse on stacks, 5 metres high and weighing up to 50 tons. Here, the order picking system breaks the large stacks down into smaller stacks, one metre high, which are then stored in the LTW high-bay warehouse. In the opposite direction, when the order picking system takes panels from the high-bay warehouse, it arranges the panels in tall order-based stacks for the short-cycle press lines. In this process, the system stacks single panels or panel packages on top of each other so that they are in the right sequence. The warehouse has approximately 1450 storage positions for panel stacks. In addition to storage and order picking of raw chipboard panels, the high-bay warehouse is also utilized for MDF panels. Moreover, it supplies panel stacks to the IMA Schelling panel cutting cell.
Automatic turnover and accurate alignment of impregnated paper stacks
Already in the first expansion stage, Egger invested in a high-bay warehouse at the Brilon site. In this high-bay warehouse system, which was also delivered by IMA Schelling's cooperation partner LTW, impregnated papers and decorative panels are stored. A semi-automatic order picking system for the decorative papers is located in the zone in front of the high-bay warehouse. Using a special drum-type turnover machine, the impregnated paper stacks for the undersides of the decorative panels are turned over (i.e. rotated through 180°). During the turnover process, the base board is exactly aligned to the correct distance from the decorative paper.
Tags: automated warehouse, IMA SCHELLING, logistics, panel production, wood, wood and panel, woodworking and manufacturing, woodworking industry, woodworking UK