Furniture China 2020 : all about connection and interaction
Published on : Tuesday, June 23, 2020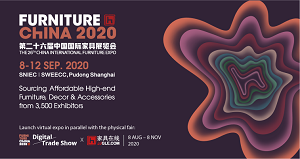 The greatest source of affordable high-end furniture, decor & accessories – China International Furniture Expo (Furniture China 2020) is going kick off in September from 8 to 12 at SNIEC, Pudong, Shanghai. The show will celebrate it's 26th edition and be held in conjunction with Maison Shanghai 2020 from September 8 to 11 at SWEECC.
With aim to effectively connecting exhibitors with international visitors for boost of furniture export trade, Furniture China 2020 confirms to launch the virtual expo "Digital Trade Show (DTS)" in parallel with its physical exhibition. This online program will have around 1000 high-quality brands who run export business, showcasing for 3 months from early August till November. Buyers from the globe can expect networking with suppliers through online inquiry, RFQ, video meeting and store/booth vlogs and more.
As a B2B trade platform dedicated to connecting global resources and networking for furniture / furnishing industry, Furniture China is forward providing the market with better trading experience of even higher efficiency.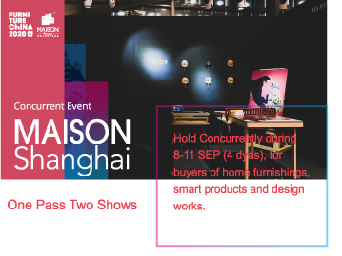 Over 160 countries' trader have been participating for cooperative partnership with China's export / import business during the last edition. While in 2020, everybody is going through a harsh time connect with the favorable resources worldwide. While now there happens a big difference that the COVID-19 situation has brought huge changes and accelerated the digitization.
The concurrent Maison Shanghai will showcase with home furnishing products, as well as designer works and interior concepts. Buyers of smaller items of decoration and unique patterns will find more quality contrasts at the venue of SWEECC.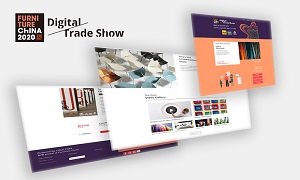 Also, a Digital Trade Show will be concurrently held and run till November (from Aug. 8 to Sept. 8). It will be a condensed virtual version of Furniture China – an exciting era for suppliers, traders and buyers to source, meet each other, and develop business in a smart and digitalized manner.
Where business networking is more efficient:
» Brand Showroom
» Online RFQ
» Online Meeting Appointment
» Videos / Vlogs
» Live Stream
Tags: 26th edition, B2B trade platform, connection, COVID-19 situation, Digital Trade Show, Furniture China 2020, furniture industry, global resources, Maison Shanghai, September, shanghai, video meeting