Festool gears up for upcoming LIGNA
&nbspThursday, February 2, 2023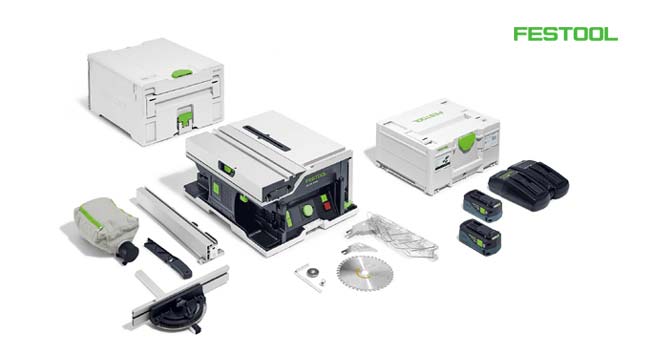 Festool is gearing up for a grand showcase at LIGNA.23 by adding yet another innovation to the tooling industry- a particularly handy yet fully-fledged table saw in Systainer format to its steadily growing portfolio of professional cordless tools.
For almost 100 years, the family-owned company Festool from Wendlingen am Neckar has been developing and producing high-quality electric and pneumatic tools for professional users and particularly ambitious hobby craftsmen. The product range of the Swabians is now so extensive that a list here would go beyond the scope. However, all products are united by their recognizable love of meaningful detail. And their reliability, which almost always results in a long service life, is legendary. As the innovation driver of an entire industry, Festool is also pushing key future topics such as efficient, clean and carefree working, in order to get where you want to go faster, easier and more sustainably. A typical Festool solution is the recently introduced CSC SYS 50 mobile cordless table saw in Systainer format.
The CSC SYS 50 cordless table saw is so compact that it actually fits into a Systainer. But despite its remarkably handy external dimensions, it is in no way inferior to its wired and bulky ancestors in robust everyday construction site use: with parallel cuts of up to 280 millimetres, a cross-cut width of up to 450 millimeters and angle cuts of minus two to plus 47 degrees, the CSC SYS 50 proves surprisingly versatile in use. What's more, with its hitherto unique digital operation, the saw delivers highly precise results down to a tenth of a millimeter. The dual battery system (twice 18 volts) in combination with the brushless EC-TEC motor also knows how to convince with power and pulling force, according to Festool no difference to mains machines is noticeable. Supplemented by the UG-CSC-SYS base frame, which is also mobile, the result is an almost perfect workstation that is almost effortless to transport from the vehicle to the work site.
Many Festool power tools have been in use for 30 years or more. This long service life of our professional devices is no coincidence. Circular saws, chop saws, jigsaws, hand-held circular saws, plunge saws, routers, agitators, electric planers, polishers, drills, hammer drills and all types of grinding machines such as eccentric sanders, orbital sanders, long-neck sanders, angle grinders, belt sanders, but also construction site radios or LED construction spotlights and many other professional devices as well as powerful, robust, but still safe and easy to manufacture means. And once again Festool introduces its latest in LIGNA.
Tags: Festool, Systainer, Tooling, wood, wood and panel, woodworking, woodworking and manufacturing, woodworking and processing, woodworking industry, woodworking tools, woodworking UK