EGGER UK upgrades its décor collection
&nbspMonday, August 7, 2023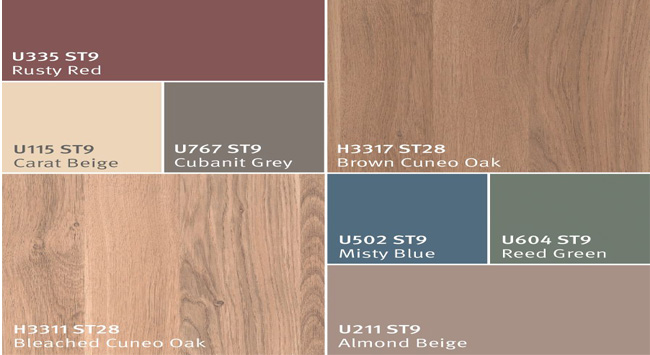 EGGER UK upgrades its décor collection with the introduction of some new décor designs that opens endless design opportunities. The latest introductions now include six solid colours in soft red, grey and blue tones and two additions to the innovative Feelwood collection which offers new possibilities to create natural, authentic looking interiors.
Shifting design trends have brought in new inspiring colours from Farrow & Ball and Coat pave for the demand of warming pastel tones in interiors. Rich, warm woodgrains are also coming back into fashion but with a matt and deep pore structure that successfully create a very natural feel. These new introductions are also reaching a new height with varied scope of designing opportunities. All decors are available in Eurodekor Faced Chipboard and matching edging from our wide UK and Ireland Distribution Network.
Discovering the new decors-
• H3311 ST28 Bleached Cuneo Oak- The rich, warm woodgrain of H3311 ST28 Bleached Cuneo Oak adds an authentic touch to designs. Characterised by the lightly planked appearance and discreet sapwood features, combinations with pastel greens connects the interior with outside and creates a holistic feel.
• H3317 ST28 Brown Cuneo Oak- Brown Cuneo Oak follows the trend for warm brown tones in woodgrains. The decors get its natural feel from Feelwood texture ST28.
• U502 ST9 Misty Blue- Misty Blue is a new colour tone that is a shade darker than existing décor U540 ST9 Denim Blue. It evokes a sense of relaxation and peace.
• U335 ST9 Rusty Red- Warm clay tones are coming to the forefront of design as consumer desire to surround themselves with natural materials and earthy tones. U335 Rusty Red paired with authentic, light woodgrains creates cosy combinations.
• U115 ST9 Carat Beige- U115 Carat Beige combines well with black accents to create a warm, light, and modern interior. Its neutral palette creates designs that feel very homely and stylish without being too stark or bright.
• U211 ST9 Almond Beige- Almond Beige has a warm, beige colour tone with a slight reddish tint. It does not appear too colourful and brings with it a subtle colour tone.
• 7.U767 ST9 Cubanit Grey- U767 ST9 Cubanit Grey offers a stunning combination of cool undertones and subtle warmth. This décor brings a touch of luxury to any room, creating a sense of serenity and refinement.
• U604 ST9 Reed Green- U604 Reed Green is a natural green shade that does not appear too colourful due to its grey components. Combinations with woods in medium to dark brown natural shades look very natural and elegant while with light woods, the combination offers a fresh naturalness.
Tags: decor, egger, EGGER UK, wood, woodworking, woodworking and manufacturing, woodworking and processing, woodworking industry, woodworking UK