EFI Cubik's adventures of Planky and Trunky
&nbspMonday, October 11, 2021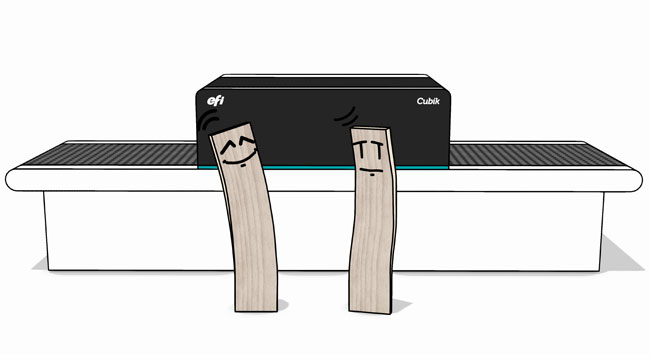 Meet Planky and Trunky, the main characters of a friendly campaign showing benefits of EFI Cubik solution for digital staining of wood planks and boards.
EFI Cubik digital staining is an alternative to traditional or analog processes for dyeing parquet planks and hardwood floors by using an industrial single-pass inkjet printer and the unique EFI Cubik mineral inks.
Nano-staining with mineral inks direct-to-wood is not the digital printing you may know today. Mineral inks penetrate the wood planks and decorate them naturally. Its inorganic pigment-based formulation makes mineral inks resistant to sunlight for life. For this reason, EFI Cubik's digital staining is an ideal solution for hardwood, plywood boards and veneered planks, since it is a decoration process that respects the nature and warmth of wood.
Watch adventures of Planky and Trunky to learn about digital staining being a new technology that fully integrates into hardwood flooring and parquet manufacturing lines. Benefits of this new and streamlined process are easily explained.
EFI Cubik single-pass digital printers are built in your current finishing lines in in plug and play mode. There is no need to pre-treat the planks before they are digitally stained. If desired, depending on the raw material, a soft brushing can be carried out. No drying is needed after printing with mineral inks, as the inks penetrate the substrate. You can, then, apply the same protective layers as you usually add on top of your planks and boards.
EFI Cubik digital staining is an optimized process; a source of efficiency that will provide you unprecedented flexibility. In return, you will multiply your decorative possibilities. With a single ink configuration installed on the digital printer, you can obtain a wide color gamut to expand the range of tones in your catalog. You can also enrich the planks by printing woodgrain graphic on them in addition to the tone; you can decorate them with color gradients, faded tones or reclaimed wood effects. And you can even can make creative designs and fully customize your product.
More details about EFI Cubik digital staining with mineral inks here.
Tags: Cubik, digital printimg, digital printing, digital staining, EFI, Planky and Trunky, woodworking