CAD Line debuts new production concept
&nbspMonday, October 9, 2023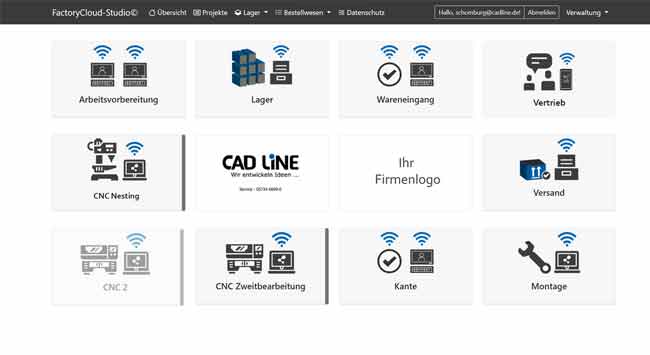 With expertise in woodworking and manufacturing software CAD Line unveils its latest innovation the Tischler-Suite a unique machine-independent production concept for the "typical" carpentry business. With the new production concept Tischler-Suite42, CAD Line introduces their latest innovation to the woodworking and manufacturing industry. Introduced at the biggest ever show LIGNA, CAD Line showcased Tischler-Suite|42 software concept for networking the production components of a typical carpentry workshop (SME).
Tischler-Suite|42 is a bundle of new and established CAD Line products, laced with years of experience in the areas of CNC connection and professional nesting.
In this concept, the focus is on central production control, paperless communication, high material savings and error-free production processes. In the networking of work preparation, machines, warehouse and assembly, CAD Line offers production planning and machine connection from a single source. As a new extension, prefabricated type libraries (macro systems for users) as well as open interfaces to other systems can be integrated in future for the quick and easy design of special production pieces, e.g. façade panels or fire protection windows.
Tischler-Suite|42 is particularly interesting for small and medium-sized companies that are planning to enter digital production, act as a supplier for special products or want to specialise in selected products. The software concept is machine-independent and can be used at any time for existing or new machines from different manufacturers.
According to CAD Line, the idea of Tischler-Suite|42 came about through constant dialogue with its customers and partners (machine dealers and manufacturers) and their requirements CAD Line recommends itself as the ideal software partner for entry into digital manufacturing and sees its concept as an interesting alternative to the large ERP or PPS system, which is often too expensive for the small business
Tags: CAD CAM, CAD Line, ligna, wood and panel, woodworking, woodworking and processing, woodworking software, woodworking UK