Beck Fastener Group witnesses a successful conclusion of LIGNA
Published on :Thursday, June 20, 2019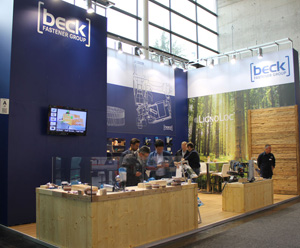 This year 1,500 exhibitors from 50 countries and more than 90,000 visitors from over 100 countries attended the world's leading trade fair for the woodworking industry in Hanover. Also the BECK Fastener Group from Mauerkirchen presented the highlights of their product portfolio.
"The LIGNA is the ideal platform for us to meet with experts from the woodworking industry, to share our ideas, our projects, our visions with them, to get valuable feedback and maybe to lay the foundation for new projects," Christian Beck, CEO of the BECK Fastener Group, sums up this year's trade fair visit in Hanover.
He was particularly enthusiastic about BECKs own booth and the action on site. Live demonstrations, in which the system solutions are clearly presented, are becoming increasingly popular with visitors. "Every time we get more visitors and better and better feedback, that's actually the most fun," Beck added further.
The SCRAIL® world at LIGNA
The BECK Fastener Group is well-known for the creation of a new species in the fasteners sector – the SCRAIL® (screw + nail). More and more applications are designed for the different types of shootable nail screws. At the LIGNA 2019 BECK demonstrated solutions for decking and roofing that make these applications even more efficient, faster and easier.
FENCE STAPLING SYSTEMS
BECK also has a lot to offer in the traditional fastening sector. "For example, the fence stapling system," said Christian Beck and has to prevail against loud noises in the background. What does not bother him. On the contrary: "We present some solutions and so I like that very, very well."
Live demonstrations at the BECK booth
Just a few meters further, Stefan Siemers, Director of Research & Development at BECK Fastener Group, explained why he makes so much noise at the trade fair booth. "People go by and sometimes do not even know their luck to stop," he grins. "If you make a little noise, that's never wrong. If someone stops and expresses interest, you can explain what it is all about. " he concluded.
Their motto: #SeeFeelTest
This year's focus was on LignoLoc®. And the two manual wood nail systems F44 and F60 have brought their big brother, so to speak. The LignoLoc® HEAD, developed for industrial use, was presented on a miniature nail bridge and was clearly a magnet for visitors. Especially when it was being shot.
Whether LignoLoc-HEAD, F44 or F60 – visitors at the booth were also able to test the systems themselves. After all, more complicated innovations sometimes have to be made tangible in the truest sense of the word so that the possible uses and benefits become understandable. "That's why it's a very important way for us to present something like the LignoLoc world to trade fair visitors," says Christian Beck, explaining the stand concept.
Sustainability – more than a trend
"The wood nail is still a totally cool product", says chief developer Stefan Siemers enthusiastically of his product development and Christian Beck added: "We are total idealists. We simply believe that in our industry, even in fastening systems, the ecology is gradually being adopted and we want to make our contribution to making fastenings more sustainable."
BECK already introduces the second LignoLoc system, meanwhile the wooden nails have a range of 38 to 90 millimeters for the handhelds, and now there is the built-in device for automation solutions in order to set up as far as possible the application areas of LignoLoc. And the team at BECK is working on other systems and application solutions. Christian Beck is looking forward to future developments and promises: "It will definitely be exciting. The next fairs will bring some new LignoLoc highlights. "
Tags: BECK Fastener Group, CEO, Christian Beck, F44, F60, fence stapling system, LignoLoc-HEAD, live demonstration, SCRAIL® (screw + nail), successful LIGNA