Vauth-Sagel witnesses a successful SICAM
&nbspFriday, October 27, 2023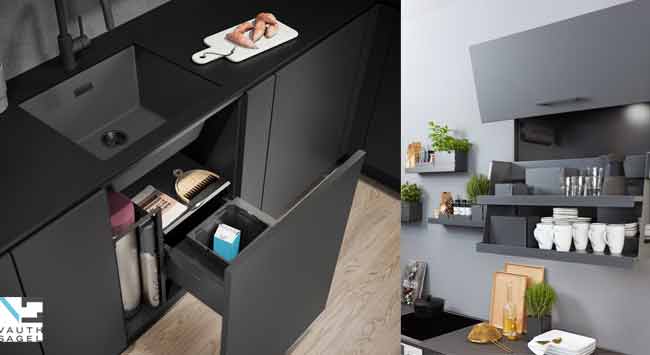 Vauth-Sagel continues its successful appearance at this year's SICAM in Pordonone, Italy. The company is developing its product palette further and pursuing sustainability, in line with its current campaign motto "#KEEPONGROWING". At the 14th Edition of the "trade fair for components and accessories for the furniture industry", Vauth-Sagel showcased an interested public, consisting of industry partners, specialist suppliers, craftsmen, planners and designers, the current trends in the world of Vauth-Sagel.
The latest developments showcased at SICAM are;
Once again, the Vauth-Sagel presented and brought to fruition at SICAM 2023: more modularity and building blocks in the transitional areas of the home, more convenience in accessing inaccessible space, and more design for a consistent look.
Another example of an innovation available at SICAM is the VS WASH series. The laundry system are available in a unique variety of types and now come in heights of 550, 460, 426 and 326 cm. Inside the hamper, rounded perforations ensure optimal air circulation to protect the laundry.
Waste bins have also been subject to several new developments. The VS ENVI Flex system has been expanded and will be available for order at SICAM in four bin heights: 216, 256, 326 and 426 mm.
The VS ENVI product family also includes the latest VS ENVI Water system.
The story continues with Vauth-Sagel innovations
Creating more than 1,000 new possibilities with only a few components: this is achieved by extending the existing VS TAL Gate assembly with the VS Gate Rack (available from 2024) and VS Gate Rack Plus.
VS TOP Down, the drop-down fitting for wall units, has already received the Golden Award – Best of the Best in the kitchen furniture and equipment category from the Kitchen Innovation Award.
Sustainability in the spotlight!
At SICAM 2023, the company once again proved that its commitment to sustainability is more than just lip service: Vauth-Sagel has been a partner of the global initiative "Plant for the Planet" for many years. This means a tree will be planted for every visitor to the Vauth-Sagel trade fair stand at SICAM. This global initiative is a perfect match for the sustainability concept of the company.
Tags: sicam, vauth sagel, wood, woodworking, woodworking industry