HOMAG Group partners join forces at LIGNA 2023
&nbspWednesday, April 19, 2023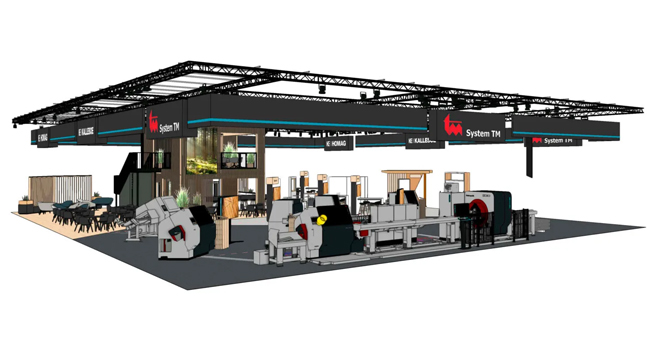 System TM joins forces with HOMAG and fellow HOMAG group member Kallesoe Machinery at LIGNA 2023. Under the motto "together, for you" the three HOMAG group partners have decided to share one space, giving customers the unique opportunity to profit from the impressive pool of experience and know-how of all their experts in one space at LIGNA. The world's leading trade fair for woodworking and wood processing plant, machinery, and tools will take place in Hannover, Germany between May 15-19, 2023.

"This booth concept will make it easier for our customers to talk about comprehensive projects and discuss options for a system solution from one single source," said Per Jørgensen, CSO of System TM.
The combined strength of the three global leaders in modern production solutions, provides customers with top-of-the-line customized solutions for their individual needs. Whether they are focused on timber processing or mass timber element production.
Despite sharing booth space at LIGNA this year, customers can expect a full sales force presence from System TM to talk about specific needs and custom projects. With more than 300 lines running worldwide, the system solutions specialist holds extensive knowledge in combining different main machines with material handling. Thus, providing individual, highly integrated, fully optimised timber processing solutions for the solid wood industry. The System TM team covers everything from line design, installation, commissioning, and staff training to service and maintenance.
Difficult times make it crucial to get the most out of your raw material. System TM helps customers to maximise resource utilisation through efficient, smart automation and process optimisation. System TM machines make it possible to get the most out of the raw material timber and achieve highest quality with a minimum of off-cuts and waste. Customers can make the most use of lower quality timber for example, by using System TM machinery combined with MiCROTEC technology, in order to detect faults and produce a high-quality product.
Tags: Denmark, homag, Homag group, ligna, LIGNA.23, machinery, system tm, woodworking, woodworking technology