Shaper Tools unveils the latest generation of tooling at LIGNA.23
&nbspWednesday, February 8, 2023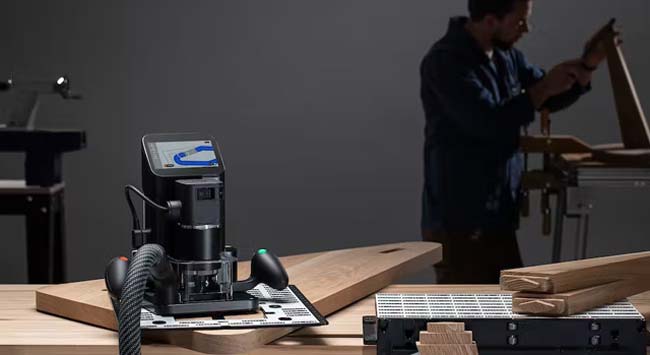 Shaper Tools is excited to introduce the second generation Shaper Origin at the upcoming LIGNA.23. The latest generation of tooling performs even better now. With the Origin Gen2, Shaper Tools is now launching an all-round optimised version of the hand-held CNC router that has caused a sensation in many workshops since its market launch in 2017.
The market launch of the Origin a good five years ago caused quite a stir at the time, which was due on the one hand to skillful marketing by the manufacturer Shaper Tools, but on the other hand above all to the special features of this hand-guided CNC router, which had not existed in this form until then. However, the company has not been able to rest on its laurels. According to their own statement, they have been working constantly over the last few years to further optimise the routing experience for carpenters and woodworkers. As a result, Shaper Tools now presented the Origin Gen2, which, according to the manufacturer, should be even more accessible, responsive and intuitive in use, following the premise of integrating digital milling work into manufacturing processes as easily and intuitively as possible.
At first glance, both generations of the milling machine are quite similar, yet there are significant differences. The "tower" in particular has been revised and now has a high-resolution five-and-a-half-inch display. This surpasses the screen area of the predecessor by a whopping 25 per cent. This is primarily to ensure that users can operate the various controls on the display even more safely. The increased viewing angle stability of the screen also improves readability in all application situations – whether at the workbench or on the construction site. The body of the Origin has also been optimised: the entire construction of the Gen2 has been installed in a CNC-machined unibody made of die-cast aluminium, with handles integrated flush into the tower.
Shaper Tools has also improved the inner values. A new camera with more than three times the resolution, in combination with a faster frame rate and an extended viewing angle, ensures a significantly increased scanning performance of the Origin Gen2. This also benefits from the updated diffuse illumination, which is said to bring advantages especially in varying light conditions.
In addition to the optimisations to the actual tool, the associated Systainer was not neglected either, and now corresponds to the current Systainer3 design. Its special features make it more than ever a safe and efficient transport and storage solution. At the same time, Shaper Tools has paid attention to downward compatibility, so that the new generation can also be coupled with cases from the Classic-Line and the T-Loc generation. In addition, they harmonise with the Vario3 in-vehicle equipment from Bott.
Tags: 2023, CNC router, germany, ligna, Origin Gen2, Shaper Tools, Systainer, woodworking and manufacturing, woodworking and processing, woodworking industry, woodworking tools, woodworking UK