SCM integrated solution for staircase production
Published on : Friday, February 19, 2021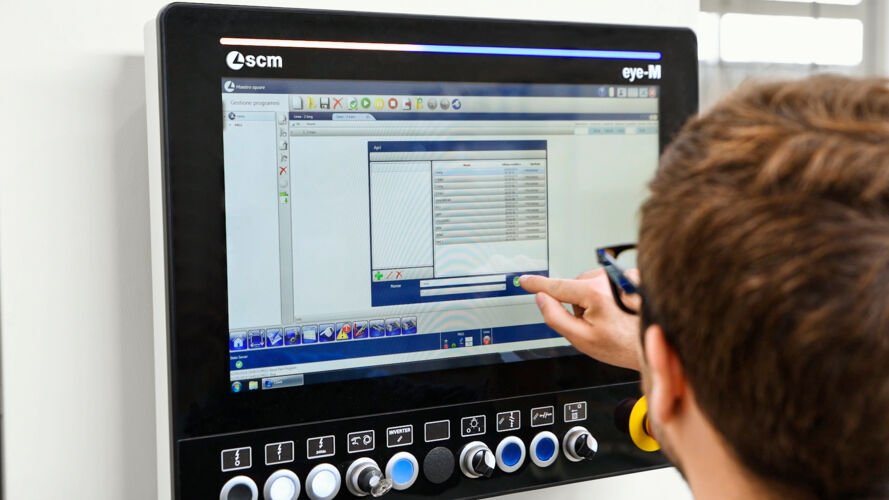 SCM offers an integrated solution for the production of staircases. This involves a cell for the nesting cut, consisting of an automatic "flextore el" magazine integrated with two "accord 30 nst" machining centres and a double "celaschi" squaring line.
This engineering solution has already been successfully adopted by leading customers in the industry which automates the machining process, increasing the quality and production capacity that can mean 60 staircases with 16 steps and landing can be completed in a single 8-hour shift.
In addition, the entire system is designed to be subjugated, on the customer's request, by an articulated robot positioned on a "seventh axis" that increases the operating range to complement the integration of the two cells, automatically managing the nesting machine unloading and loading onto the "celaschi" line, without the intervention of an operator.
Starting with the unfinished panel, the stair strings, landings, risers and treads are produced. This SCM solution is ideal for optimising and simplifying made-to-order productions because it handles both uniform stacks as well as mixed stacks, consisting of panels of different sizes and colours, and unfinished panels and/or with a minimum thickness of no more than 3 mm, depending on the material.
The core of the cell is the three-axis "flexstore el" automatic magazine that guarantees a considerable increase in productivity and a significant reduction in the cost of running the raw materials magazine.
The "Maestro active store" software plays a dual role of man-machine interface for the flexstore automatic storage as well as acting as supervisor to the cutting cell, allowing control to be centralised and simplified. Furthermore, automatic panel labelling is done in this area, in accordance with the cutting diagram subsequently carried out by the operating machines. This operation is extremely important as it means the panel can be constantly tracked during the integrated automatic processes and the work programs associated with each element can be called up at later stages in the machining process.
Of the two "accord 30 nst" machining centres, the first one is mainly used to manufacture the risers and steps, while the second one is used for the stair strings on the staircases and the landings. By maintaining the manual loading function, special one-off pieces can also be machined.
The main advantages of this solution are high powered routing and intelligent programming thanks to the "Maestro" software suite. This results in excellent performance in terms of speed as well as quality and implementation accuracy.
The main advantage of the cell lies in its modularity and scalability: indeed, even though each of the two machining centres are assigned to specific machining jobs, just one of them can be used if there is a reduced production capacity requirement. Equally, if there was a fault on one of the two machining centres, this solution would ensure that production did not stop completely but that it continued on the other one.
Tags: accord 30 nst, FLEXSTORE, maestro, Maestro active store, SCM
| | |
| --- | --- |
| | |
| | |