OKSZ modular stacker is the latest from OSKA
&nbspTuesday, October 31, 2023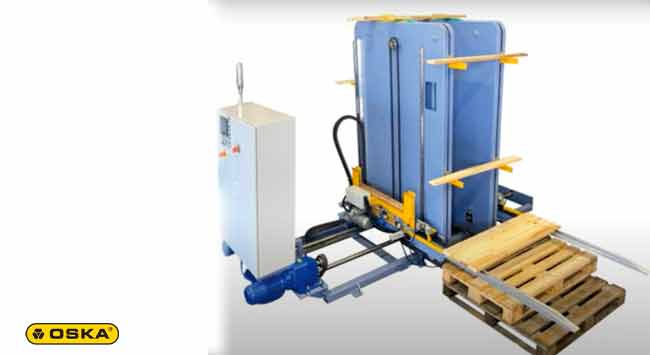 OKSZ modular stacker from OSKA accelerates production process. In the timber industry, efficient storage and transportation of sawn timber are key elements of the production process. One of the tools that make this work significantly easier is a modular stacker. It is a device with many advantages that ensures precision and saves time.
OSKA Stacker
A modular stacker is a machine designed to stack sawn timber, boards or other wooden products into stable, even stacks. This is an exceptionally useful tool in wood processing plants, sawmills and in places where it is necessary to store and prepare sawn timber for transport or storage and drying.
Why choose a stacker?
The stackers operate with perfect precision. The stacks are even and stable, which is crucial in the process of transporting and storing wood. Moreover, stacking wood by hand is time-consuming and requires the use of physical force. Stackers automate this process, which saves time and reduces the number of employees needed for a given operation.
OKSZ stackers also increase production efficiency. Stacking lumber quickly allows for more efficient wood processing and meeting greater demand for wood products. They also minimize the risk of damage, thus saving on material costs. Working with wood stacks can be dangerous, especially when handling large amounts of material. Process automation reduces the risk of accidents and improves safety.
Usage and applications of the OKSZ stacker
OKSZ stackers are used in many areas of the wood industry. Here are some examples:
Sawmills – In sawmills, OKSZ stackers are used to stack and prepare boards and beams for transport.
Wood processing plants – places where wood is processed into various products, such as pallets or structural elements, use automatic stackers to stack stacks of finished products.
Warehouses and distribution centers – help prepare wood for shipment and enable efficient inventory management.
Woodworking industry in general – OKSZ stackers can be adapted to a variety of tasks within the woodworking industry, making them a versatile tool.
Tags: OSKA, sawmill, stacker, wood industry, woodworking, woodworking and processing, woodworking UK