New FANUC cobot offers faster installation and flexibility
&nbspTuesday, May 17, 2022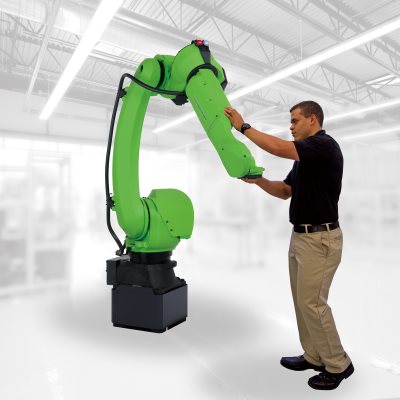 The latest from FANUC, 35 kg payload cobot offers faster installation and more flexibility and is introduced as one of the world's strongest collaborative robot (cobot) ever produced. The FANUC CR-35iB – has received a makeover to shorten installation times and improve portability, while the unit's overall mass is significantly (62%) lighter.
Despite the success of the previous-generation CR-35iA, FANUC has an ethos of continuous improvement that is applicable across the company's entire product range. As a result, the new CR-35iB demonstrates a number of additional customer advantages. For example, the need previously existed for a levelling plate/base to counter any unevenness on the floor surface, a common issue in many factories. This base would require anchoring to the floor with adjustment screws for levelling, a requirement that is no longer necessary with the CR-35iB, making installation easier and faster.
As well as floor mounting, the new, lighter FANUC CR-35iB is also suitable for use on motion rails and mobile robots thanks to an impressive 62% reduction in mass (from 990 to 370 kg). This reduction is largely due to removal of the pedestal (for ground fixing) and the cobot's soft cover (without any compromise in safety). The CR-35iB is now far easier to lift and relocate around the factory, if necessary.
Removing the pedestal also contributes to a 19% reduction in height, from 2,288 to 1,855 mm, a useful saving of 433 mm.
Another development on the new FANUC CR-35iB is its slightly larger range of motion, introducing even more flexibility and dexterity. For instance, J2 axis rotation is now 215°, up from 165°, while J5 axis wrist swing is 280°, instead of 220° previously.
FANUC has of course retained all the benefits of the previous-generation model. For example, in the event of accidental damage, the ability to pass the main wiring harness through the arm makes repairs quick easy to minimise business disruption. This contrasts with most dedicated cobots that have cables running through the middle or along the outside.
Control options remain the same. Users can either break from traditional programming with the FANUC Hand Guidance option, leading the cobot through paths to teach a new task, or undertake programming with FANUC's iHMI step-by-step guides.
Tags: aiutomation, cobots, Fanuc, UK, wood, wood and panel, Wood Processing, woodworking and manufacturing, woodworking industry, woodworking machinery