NESTRO welcomes sales representative for both countries
&nbspTuesday, October 4, 2022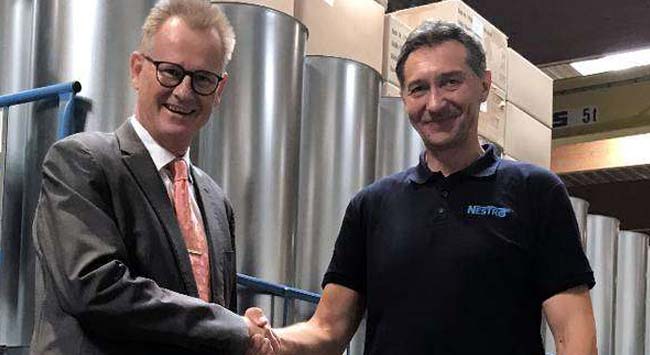 NESTRO Lufttechnik GmbH has appointed a new sales team member for the Czech and Slovak Republics. Mr. Evžen Jancur took up his position as area sales manager on September 1st 2022 and is currently undergoing an intensive training program. In both countries, woodworking in particular has a long tradition and offers great growth opportunities to the company for its filter systems. The picture shows Marketing & Sales Manager Till Uhle (left) welcoming Mr. Jancur in the company.
Nestro assists the industry to meet these new challenges and so ensures optimum working conditions. The company's systems provide energy efficient extraction of dust and waste and help to produce perfect quality with reduced stoppage times. These systems transport, shred, cut, store and compress waste materials to customer's needs. On the exhibition stand some of the key components are shown to the visitor.
Founded in 1977, Nestro Lufttechnik GmbH is currently one of the large established manufacturers of products and systems for extraction and filter technology and for their downstream heating technology, for surface engineering and for sorting and disposal technology. Today the brand is synonymous with innovations and delivering unique technology to the market. With a defined history in producing innovations they now unveils the Filter System Solutions for the Plastic industry at K, Dusseldorf and specifically caters to the industry need and meet user expectations by creating value.
Tags: nestro, wood, wood and panel, woodworking and manufacturing, woodworking and processing, woodworking event, woodworking industry, woodworking UK