Lignum Consulting to focus on resource efficiency in LIGNA.23
&nbspWednesday, February 22, 2023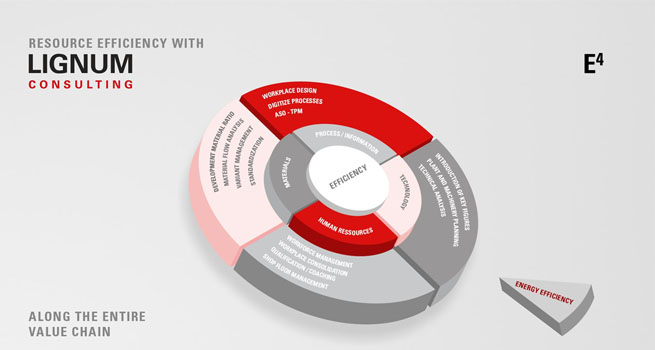 In Germany, as in many other countries around the world, the past three years have been characterised by enormous economic changes. In the current market situation, companies in the wood and furniture industry are experiencing a significant decline in consumer demand; in some cases to surprisingly low levels. This has led to drastic consequences to some companies and employees. In order to ensure the long-term viability of SMEs, especially in the wood and furniture manufacturing sector, the Lignum Consulting team will focus primarily on the topic of "resource efficiency; in 2023.
Pressure is particularly growing in the following areas:
Availability: Because delivery capability is more important than price.
Processes: Because digitization and integration/networking are the topics of the future.
Human Resources: Because the shortage of skilled workers is having a massive impact on the industry.
Sustainability: Because climate change is forcing us to think and act in new ways.
By analyzing the entire value chain, individual solutions are developed for our customers. The goal is to provide fact-based evidence of the economic viability of the solutions. The right balance between economy, ecology and sociology needs to be developed. Each company has its own specific requirements which need to be addressed on an individual basis. Optimisation solutions will be proven by, for example, cost simulations, process cost calculations and process comparisons.
Under the motto, Resource Efficiency E 4 , Lignum Consulting utilises four key areas of efficiency: Material, Process/Information, Human Resources and Technology. Lignum Consulting is a consulting- and engineering company for the international wood and furniture industry. The company distinguishes itself from the competition by its autonomy, neutrality and independence.
Tags: ligna preview, LIGNA.23, Lignum Consulting, resource efficiency, SMEs, value chain, wood and furniture industry, woodworking industry