LIGNOLOC® from Beck Fastener achieves ETA
&nbspMonday, July 17, 2023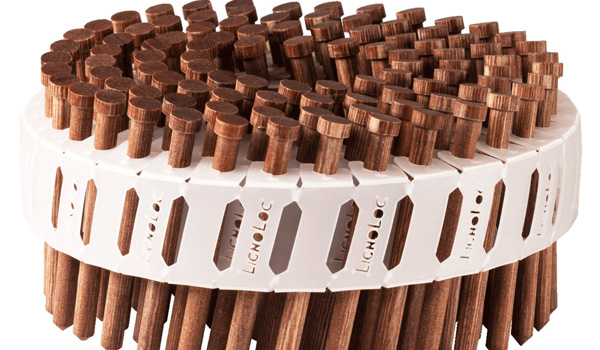 LIGNOLOC® wooden nail has achieved the European Technical Assessment (ETA) for structural timber construction. The collated nail made of wood from RAIMUND BECK KG can now be used in load-bearing timber constructions throughout the EU. The nails are used for timber-to-timber or panel-to-timber connections.
The approval applies to the nails without a head and enables the planning, design, and execution of load-bearing connections in timber frame construction. The provisions made are based on an assumed intended working life of the LIGNOLOC® nails of 50 years. The nails are used in load bearing timber structures with softwood members of for example solid timber, glued laminated timber, cross laminated timber, LVL and similar glued members or wood-based structural members. Planks and panels made of solid timber, wood-based materials or gypsum fiber can be attached to wood building materials using LIGNOLOC® wooden nails. In addition, connections can be made with LIGNOLOC® to produce bracing and load-bearing wall diaphragms.
ETA 2023 – German Technical Approval 2020 At fastening pioneer BECK, the European Technical Assessment was eagerly awaited. As early as 2020, the German Institute for Construction Engineering (DIBt) issued the German "National technical approval / general construction technique permit" for "Load-bearing timber connections using LIGNOLOC® wooden nails".
"This is a massive step forward for us and for our pursuit to establish LIGNOLOC® as a standard practice in the European building sector and to further advance the ecological turnaround in construction. With the ETA, the static verification can be carried out according to Eurocode 5", explains Christian Beck, General Manager & CEO, enthusiastically and gives a little outlook: "We also expect the approval for the LIGNOLOC® wooden nails with head for facade applications this year."
Tags: BECK Fastener Group, Christian Beck, cross-laminated timber, design, ETA 2023, European Technical Assessment (ETA), frame construction, General Manager, Grant, gypsum fiber, lignoloc, LVL, panel-to-timber construction, panels, planks, softwood, solid timber, timber constructions, wood building, wooden nails