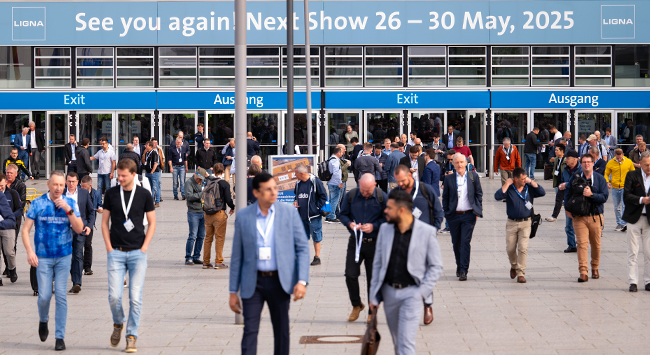 It's day five already! Time flies. Woodworking and processing looked different just a few years ago than it does today – and in a few years, what will it look like then? The world's leading trade fair for woodworking, LIGNA in five days, gave a considerable boost to the industry and took everyone along new paths, after the long pandemic pause and set the trend for the entire eco-system of woodworking industry. What began with the passing of the famous and unique BATON, LIGNA.23 has finally come to a close, keeping the industry waiting until May 26-30, 2025.
Focus topics:
As the world's leading trade fair with a global impact, LIGNA placed itself, once again, at the service of the woodworking and wood processing industry and, with three focus themes, creating the conditions for optimum development of industry representatives. The future belongs to those involved in the "transformation of woodworking", "prefabrication processes in timber construction" and "process technologies for the bioeconomy". The focus topics were aptly chosen by the organisers and the industry witnessed the best of innovations during the five days.
For a quick recap, here are the links:
German Timber Construction Award
Three timber construction projects were awarded the prestigious German Timber Construction Prize this year:
the addition and expansion of the federal headquarters of the German Alpine Association (DAV) in Munich,
the new construction of the town hall in Hainburg and
the new construction of the Buggi 52 residential and commercial building in Freiburg im Breisgau.
Equally honoured were building owners, architects, structural engineers and timber construction companies as the originators of the award-winning contributions. The 16-member jury of experts for this year's German Timber Construction Award, headed by Prof. Dr. Annette Hafner, had 149 project submissions to sift through and evaluate.
LIGNA.Stage:
From the industry for the industry: At LIGNA.Stage in hall 12, trade visitors got free information on current topics in the woodworking and wood processing industry. Experts shared their knowledge here: topics such as artificial intelligence, digitization, but also the change in the carpentry and joinery trade. The lectures of LIGNA. Stages are also streamed live via the LIGNA website and simultaneously translated into English. Interested parties can also access the recordings on demand at any time.
Face to face:
Watch what the industry is feeling from our #LiveAtLIGNA videos from own YouTube channel: https://www.youtube.com/woodandpanel
Keep reading Wood & Panel for more updates on LIGNA.