LIGNA 2023 provides orientation for the industry
&nbspMonday, April 3, 2023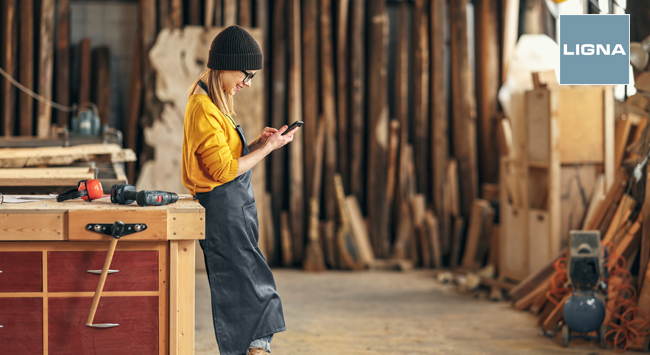 The focus topic "Woodworking Transformation" at LIGNA 2023 outlines viable scenarios for the wood and furniture industry along the current and future lines of development in digitisation, as well as solutions for the woodworking trade. The "Woodworking Transformation" as a change and further development of processes and techniques for processing wood includes both the automation and digitalization of processes and the application of new materials and technologies.
LIGNA 2023 will show how the efficiency, quality and sustainability of woodworking can be optimised, such as through machine learning. As a key technology, advancing digitalisation is bringing about fundamental change throughout the woodworking and wood processing value chain, not only in industry but also in the craft sector. As a holistic evolutionary transformation process, digitisation is having a productive influence on all areas, from strategy to the organisation of production and logistics to sales and after-sales services.
LIGNA has been accompanying this development as an international impetus and pacesetter for years, and now the " Woodworking Transformation" is consistently continuing the successful focus topics of 2019 ("Integrated Woodworking Technologies – Customized Solutions") and 2017 ("Integrated Manufacturing"). With Hybrid Guided Tour, in German and English and a first-class program on the LIGNA.Stage, special formats tailored to target groups for the skilled trades, industrial manufacturing, forestry technology and, last but not least, IT security, round off the "Woodworking Transformation" focus topic at LIGNA.23.
Numerous companies represented at LIGNA 2023 are contributing to the "woodworking transformation" with their developments, from the hidden champions of the mechanical engineering sector to global players. From Austria, for example, the Felder Group, one of the leading suppliers of woodworking machinery, will be there with fully automated robotics solutions, and as one of the many German companies, Dieffenbacher Holding GmbH & Co. KG will be presenting a significant contribution to the transformation of the industry at LIGNA 2023, showing how energy recovery solutions and measures to improve operational excellence and promote the sustainability of wood-based panel plants are transforming conventional production facilities into "smart plants."
"What the Champions League is to soccer, LIGNA is to the woodworking industry," notes Oliver Kunzweiler, Director Central Marketing Weinig Group, announcing for LIGNA 2023: "We measure ourselves in constructive competition in order to convey the best possible solutions to customers. On 5000 m² we show innovative large-scale plants for industrial companies up to stand-alone machines for the craft.
Ettore Vichi, Chief Regional Officer EMEA and APAC at Biesse, emphasizes his company's new direction: "We look forward to welcoming visitors to our stand in Hall 11 and presenting the result of our development process. This is based on the concept of multi-materiality. High-tech solutions, integrated systems and plants will be on display that are specifically tailored to the needs of manufacturing companies looking to significantly improve and enhance their production performance."
The globally operating HOMAG Group stands for the "woodworking transformation" to a particular degree. Achim Homeier, HOMAG GmbH, Senior Director, Global Marketing & Product Management, also emphasizes the sustainability aspect in this context: "Digitization along the entire process chain of our customers offers considerable resource savings potential. In order to successfully accompany our customers worldwide on this path, HOMAG develops helpful solutions together with them – from product configuration, among other things in the web store, to production data creation including enrichment with supplier data, for example from edge or fitting manufacturers, through to material flow control and shipping and assembly planning.
Tags: Achim Homeier, digitization, homag, LIGNA 2023, LIGNA.23, Oliver Kunzweiler, weinig, Woodworking Transformation