LEUCO tool alternatives for the new Lamello® Cabineo Connector
Published on : Thursday, February 25, 2021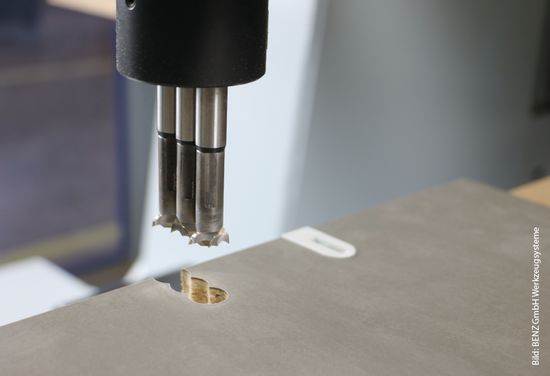 The new Cabineo is a one-part connector for drilling or milling and is ideal for connecting two bodies through pure surface machining. Machining can be done on any CNC machine either by milling or drilling.
If the customer opts for milling, the necessary shape can be produced using an end milling cutter with a cutting diameter of Ø10 mm or Ø12. To prevent chipping in the top layer, we recommend a negative twisted VHW finishing cutter, a compression cutter or even a corresponding DP nesting cutter.
Program Finishing Cutters VHW – negative spiral
Program High-Performance Shank-Type Cutters CM DP Nesting – Z=2+2
Program High-Performance Shank-Type Cutters CM DP Nesting – Z=3+3
Alternatively, users can also opt for hw hinge drill bits with a diameter of Ø15 mm. LEUCO recommends using the "Light" series cylinder boring bits.
Program Cylinder Boring Bits HW – "Light". One special LEUCO development for the cabineo system are the new tungsten carbide-tipped "3-in-1" drill bits.
Designed specifically for the new BENZ Cabineo power unit, they produce the Cabineo contour in just one stroke. The very special geometry of these drill bits offers the best edge hole quality, outstanding chip evacuation, extremely low cutting pressure and the highest possible edge lives.
Program Drill Bits HW for Lamello Cabineo® pockets.
Tags: Lamello, Lamello Cabineo, Leuco, ligna, woodworking and manufacturing, woodworking tooling and manufacturing, woodworking tools
| | |
| --- | --- |
| | |
| | |