LEUCO presents innovative G5 and G7 blades for Schock Fensterwerk
Published on : Thursday, August 6, 2020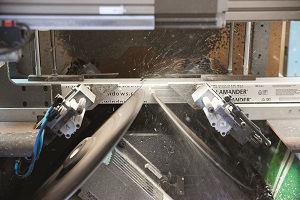 When it comes to saw blades for miter cuts, Schock Fensterwerk relies on LEUCO. The G5 and G7 models are used on CNC machining centers. Long service lives and high quality are the convincing arguments.
Windows, doors and fire protection elements are the special field of Schock Fensterwerk, which has its headquarters in Denkendorf, Bavaria. For miter cuts in window profiles, the window manufacturer uses
blades from LEUCO, because they best satisfy the high quality requirements.
"Miter cuts must be clean and burr-free here. Only in this way can we achieve the highest quality of the end products. Long service lives are a welcome bonus", explains Matthias Waffler, production manager at Schock Fensterwerk. For over 38 years he has worked at the company, which today has 120 employees. Miter cuts in window profiles are produced on three large systems that are fitted with standard and special tools." Matthias added further.
The challenge of window profiles
Schock Fensterwerk processes the widest variety of window profiles – with or without seals, plastic or aluminum, with coarse or fine geometries. This is where standard tools sometimes reach their limits. "Working together with us, LEUCO has developed appropriate saw blades for especially demanding window profiles", states Matthias Waffler. "The know-how was definitely there, so that the entire development was handled professionally and well".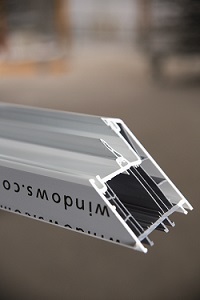 G5 for the widest variety of plastic profiles
LEUCO developed the G5 saw blade for processing of plastic. "We use the standard version for profiles with fine geometries and different materials, such as combined profiles of plastic and aluminum", explains Matthias Waffler. "The version adapted to the machine miters profiles that already have seals installed. These seals must remain undamaged". Matthias concluded.
Tags: CNC machining center, G5 model, G7 model, high quality, Leuco, Matthias Waffler, miter cuts, Production Manager, Schock Fensterwerk, window profile