Koskisen invents new loading solution: SENSi
&nbspThursday, November 16, 2023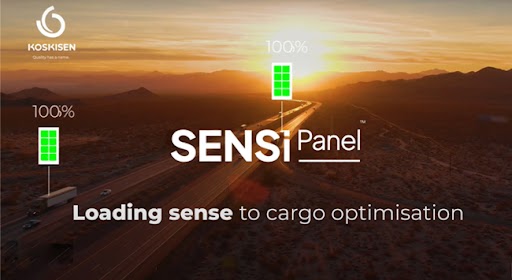 Finnish wood industry company Koskisen introduces pressure-detecting floor panels for trucks and trailers to the market. The smart SENSi panels gather data which helps to optimise cargo logistics in an unprecedented way.
When it comes to new resolution and new solution, Koskisen does it best! This time, they focused on cost efficiency an sustainability. By introducing SENSi Panel – the smart floor panel for trailer that optimises cargo fleet utilisation. Also the SENSi Panel comes with real-time data.
"There are plenty of logistics solutions in the market for monitoring fleets or trailers, but so far the freight itself has been neglected – even though it's ultimately the most important thing and the actual point in cargo", says R&D Team member Andreas Strauch from Koskisen.
SENSi Panel – Loading sense to cargo optimisation
In the cargo industry, optimization is essential at every turn. All actions, whether they revolve around cargo loads, telematics, efficiency, safety, or sustainability, everything should be optimized to the brim. However, the industry is still riddled with questions.
How to know how much empty space a trailer holds? How to measure its optimal load capacity? How to optimize efficiency and route planning, while saving costs and the environment?
To this day, there hasn't been a clear answer. Until now. But with SENSi, the questions have real answers now!
Like tracking parcels in the mail
When freight data is paired with GPS location data, freight transport by road can be tracked like mail parcels, and the ETA can be informed more accurately than before. This all becomes possible as the real-time data related to freight loading, transporting, and unloading is stored in the cloud.
"As strange as it may sound, proper tools have never existed previously that would allow informing a client exactly when their freight arrives and how much of it is on the way. In international transport, communication usually happens by phone and language problems can form a barrier between necessary information. SENSi also helps tackle these problems, while the logistics chain becomes more efficient and the customer satisfaction improves", Strauch summarises.
The truck drivers also have access to the data: An intuitive SENSi application helps the driver to keep up to date on the status of the freight.
"SENSi also improves safety already by avoiding overload. Also, the sensors can also detect if a badly attached load gets loose and slides away from its original position", Strauch adds.
Simple data, plenty of applications
The basic idea of SENSi panels is simple. Within each floor plywood panel are embedded smart sensors detecting pressure. They provide data on whether there is any load on the panel and how much vacant space is left in the trailer. The data is then stored in the cloud, which industry-standard logistics planning tools, freight platforms and telematic systems could use in real-time.
"With this data, freight platforms could automatise their processes and sell freight capacity online automatically. The data could be also incorporated in route planning or fleet management systems", he envisions.
"SENSi panel helps logistics companies to move towards smarter and greener transportation", states Andreas Strauch.
Andreas Strauch sees that real-time freight data already provides a lot of opportunities, and by the time autonomous trucks become mainstream, it will play a key role in the entire supply chain.
Read more news on: Koskisen
Source: Koskisen
Tags: cargo industry, Koskisen, logistics, SENSi – smart floor panel, woodworking industry