Katam introduces first forestry camera drone
&nbspFriday, September 23, 2022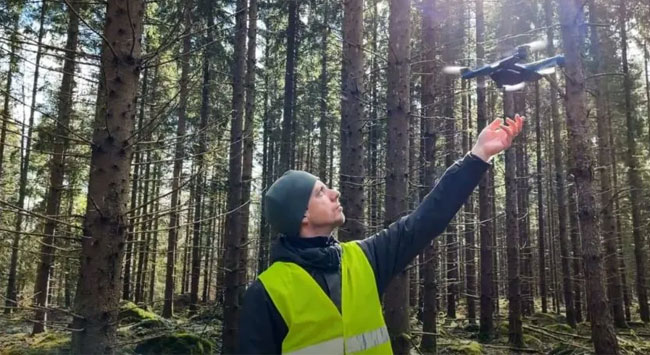 Katam introduces the first service in the world for using camera drones to collect data from tree trunks. This new service of autonomous drones offers to supplement manual measurement of tree trunk diameters. With this innovative approach, forest owners and field workers can stay away from inhospitable, mountainous, thorny, and even hazardous forests, such tropical ecosystems where spiders and snakes live.
Developed as part of the ADACORSA project
With an extensive experience in AI analysis, this camera drone has been especially curated with the brand's domain understanding of the forestry use case. The company now adds this new technique for gathering data on forests by employing autonomous drones for video recordings. The novel drone-based recording technique was developed as part of the ADACORSA project, which was funded by the EU and included Ericsson, Lund University, and Katam Technologies as the consortium's Swedish members. The goal of ADACORSA is to develop the drone market in Europe. Katam continues to offer services to the global forestry industry for accurate decision-support, higher wood growth, and improved wood quality. By showcasing technologies enabling safe and dependable drone operation in all scenarios and flying phases, it aims to enhance public and governmental acceptance of BVLOS (Beyond Visual Line-Of-Sight) drones.
Drones are typically employed in forestry to fly above the tree canopy. The diameter of the tree trunks, however, cannot be measured from above the trees. Fortunately, consumer drones that are very affordable today come with sophisticated navigation and collision avoidance algorithms that enable flying into the forest itself at just a few metres above the ground. Katam now offers an additional technique for gathgering trunk data for the Katam forest analysis system by using these drones for video recordings. For both immediate and long-term strategic goals, Katam Technologies provides decision support services to the forestry industry. The transformation of forest data into useful decision-making information for global forestry is made possible by patented algorithms, artificial intelligence, and Katam's own forestry expertise.
Tags: camera drone, forestry camera drone, Katam, sustainable, woodworking and manufacturing, woodworking event, woodworking industry, woodworking UK