Jowat PUR Hot Melt Adhesives- sustainable and safe
Published on :Friday, October 1, 2021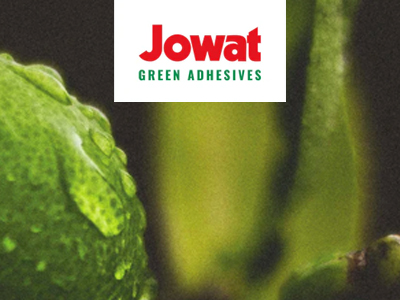 The adhesive manufacturer Jowat from Detmold actively contributes to the improvement in occupational health and safety in the wood and furniture industry. With optimum performance and reduced costs of investment they supply PUR adhesives that are not subject to hazard labelling. Jowat and Detmold adhesives are part of the "Green Adhesives" series, a comprehensive portfolio of sustainable adhesive solutions from Jowat. They have been developed to facilitate more responsible and more environment-friendly bonding processes.
 "We supply a wide range of products with hazard-free labeling for edgebanding, from so-called 'all-rounders' to premium solutions for through-feed units and to BAZ solutions for edgebanding molded parts. Our goal is to provide our customers with a broad spectrum of alternatives to conventional PUR adhesives without compromising the adhesive performance," explains Tim Rosenthal, Product Manager at Jowat SE.

Apart from health and safety considerations it also provides further benefits and can reduce investment and process costs. Products from this series are not subject to the forthcoming statutory training requirement under REACH. The supplier of all adhesive groups is manufacturing over 90,000 metric tons of adhesives per year, with more than 1,200 employees. A global sales structure with 23 subsidiaries plus solution partners is guaranteeing local service with close customer contact.
In the pursuit of sustainability with the "Green Adhesives" label, Jowat focuses not only on the adhesive itself but also on facilitating an eco-friendly as possible bonding process. Enterprises can make a significant contribution to the protection of their employees with a very easy change to monomer-reduced hot melt adhesives.

Tags: Adhesive, eco-friendly, green adhesive, Jowat PUR Hot Melt Adhesives, PUR adhesives, Pur Hotmelt Adhesive, saleant, sustainable and safe, woodworking and manufacturing, woodworking industry