Innovative tool solutions from Leitz
Published on :Tuesday, December 14, 2021
With its range of tools, Leitz offers optimal solutions for the machining of PMMA materials, which impress with particularly high machining quality and long tool life, while delivering outstanding results.
The use of the material polymethyl methacrylate (PMMA) is particularly in demand in applications in the construction industry, furniture and trade fair construction, the leisure industry but also in mobile home construction. PMMA has a wide range of applications. The advantages of this material comprise transparency, high rigidity as well as hardness and scratch resistance. However, processing PMMA is not really easy. During machining, melting can occur, causing a so-called built-up edge. Insufficient chip removal or excessive heat generation lead to deformations in the material or, in the worst case, even to tool breakage.The consequences: unwanted reworking and additional tool and material usage or long downtimes due to tool changes.
The VHW cutter range from Leitz, for example, ensures that not only quality, but also efficiency and productivity are increased during machining. Users simply save time with these tools and thus work much more economically.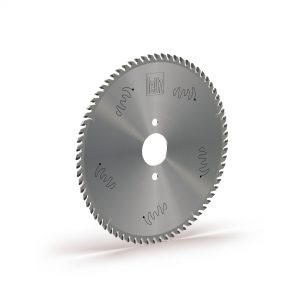 With the VHW spiral finishing router, users create the perfect edge.The particularly high cutting quality significantly reduces reworking and the overall process simply becomes more efficient. The VHW Torus cutters provide more productivity, especially when machining shapes and contours.Clear advantages are short machining times and first-class cutting results. The suitable tool for sizing and grooving in rough finishing quality is the VHW Marathon spiral rough finishing cutter.Particularly in terms of productivity but also sustainability, the tool offers clear advantages with its high cutting performance and special durability. The proven Marathon coating from Leitz is used here.
The HS drills from Leitz are particularly suitable for through holes in PMMA.Their special cutting edge geometry ensures break-out-free drill holes and thus enables high-quality end products.
The HW BrillianceCut circular sawblade from Leitz guarantees truly outstanding results. The typical PMMA processing steps such as cutting, grinding and polishing or flaming can be significantly shortened with BrillianceCut, making processing much more efficient.The biggest advantage of these circular sawblades, however, is that they produce cutting surfaces in finished cut quality as well as break-out-free cutting edges, so that subsequent grinding of the edges is no longer necessary.
The Leitz range of tools for PMMA processing is suitable for all conventional machine types and is available from stock. Further advantagesarelesswear, longlifetimeandtheresharpenabilityof all toolsincluded in theprogramme.Thus, the process costs can be additionally reduced.
When it comes to the efficient machining of PMMA, Leitz has the ideal solution with its extensive tool range. After all, this not only increases quality, productivity and efficiency in machining. With its profound knowledge of processes and machine technology, Leitz creates sustainable solutions in new dimensions that save time and money and thus help customers to be more successful.And with the world's largest network of highly qualified service centres, Leitz is also a reliable partner for trade and industry with its service and consulting concept.
Tags: Leitz, Leitz tooling solutions, PMMA tools, saw blades, VHW spiral finishing router, woodworking and manufacturing, woodworking industry, woodworking tools