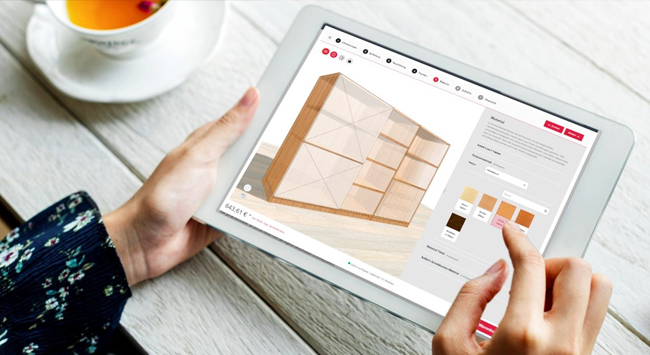 "In developing our new version, we have clearly focused on expanding our cloud services and on digital networking within the industry. At imos, we are pushing ahead with the strategy of opening up our technology, which will raise cooperation opportunities for production and marketing to a new level," explains Winfried Dell, CEO of imos AG, on the launch of iX 2021 on September 21, 2021. "In this way, we are taking into account the global trend that industrial companies, just like craft enterprises, are increasingly designing their business models across company boundaries, selling products internationally and modernizing their services."
Autonomous software applications offer immense advantages in terms of security and speed of data exchange by avoiding interfaces. With the new version iX 2021, imos is nevertheless treading the path towards the integration of cloud-based services from other providers. Whether machine manufacturers or suppliers, there is an industry-wide trend towards online technologies that support the workflow. iX users can thus expand the functional scope of their software, while at the same time cooperations within the furniture industry become more attractive, entirely in the spirit of Industry 4.0.
With iX 2021, imos is also relying on the advantages of cloud technology, which makes data and programs available online independently of desktop and server. Thus, iX CAD and iX PLAN can now be operated on virtualized environments. Both for decentralized use (e.g. home office) and tailored to company strategy and workload, imos provides exactly as many licenses as are currently required for a limited period of time via a subscription model.
iX CAD/CAM – for the new version, this always means a wealth of optimization in detail. For example, iX 2021 offers more convenience and improved handling for the initial creation of new designs in iX Designer. In the user interface of the iX Designer, you will find the Article Designer combined with the Object Designer and the Part Designer. Simple and intuitive operation via icons in iXplorer are possible as well as editing of articles without interruption.
We have redesigned the interface in the iFurn Catalog: The appealing design and new structure provide a better overview. New functions have also been added and existing manufacturer catalogs were updated and expanded.
The use of two post-processors (instead of one) doubles the speed of generating drawing documents, manufacturing documents and CNC programs, speeding up operational processes as well as maximizing productivity.We have optimized the workflow:Copying stations now works across workflows. Details subordinate to the stations can also be copied within a workflow.
Multithreading enables the distribution of the workload. For example, data generation can be distributed across several (max. four) cores – the result: data is generated twice as fast.
A great highlight in iX NET is the speed up room planning and the clear user guidance with assigned order and the step by step navigation. The operation is much faster operation with little need for explanation.
Article placement and generation have been accelerated, as has drag & drop placement, which does not require any loading time in standardised previews. Surfaces, handles and design features are loaded and exchanged in the background.
"Unfortunately, we will not be able to present iX 2021 at LIGNA as a presence trade show this year, as usual," Dell regrets. "We really miss the personal exchange with customers and business partners. Via the LIGNA.Innovation Network portal and on our homepage www.imos3d.com, we have prepared various online offers to nevertheless provide interested parties with the best possible information on all innovations relating to the new version from September onwards. Together with the imos team, I look forward to your visit."
Internationally, imos AG is one of the important pioneers of digital evolution in the furniture industry. The focus is on the development and distribution of innovative system components for the furniture and woodworking industry. The product range combines the areas of sales, design and construction, work preparation and production into a continuous digital process. Configurable according to demand, imos solutions are used by leading international industrial companies as well as by highly specialized craft businesses that manufacture individually. In addition to the headquarters in Herford/East Westphalia, more than 4,500 users are supported via a global network of 43 sales and service partners in 89 countries. The software range is available in 27 languages.