Hundegger SPEED-Cut- ensures precise and flexible timber processing
&nbspThursday, August 10, 2023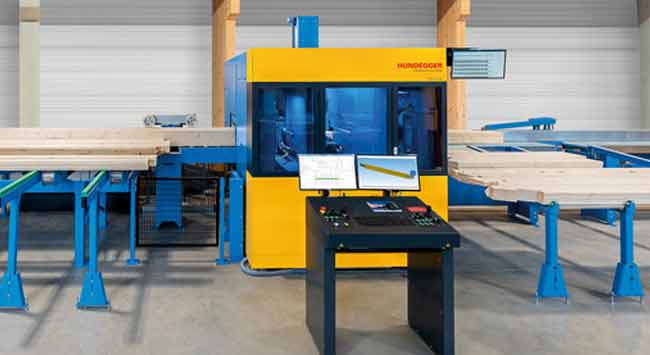 Hundegger unveils new developments in the CNC joinery sector and enriches timber process industry. With the latest innovations Cutting timber become easier and also saves time. The path-breaking cutting machine SPEED-Cut 480 shaping timber becomes simple, precise and quick. Cutting task simplified like never before.
Hundegger SPEED-Cut
Precise and flexible timber processing – high performance 5 axis cutting machine
Tasks such as cutting simple timber elements quickly and precisely – without measurement, without marking, without setup – and, optionally, more extensive milling and drilling operations: this is exactly what the SPEEDCut has been developed for.
The SPEED-Cut operates at a previously unmatched speed. The heart of the machine is the flexible saw unit which can make cuts at any angle and inclination.
Whether it is one-man company or a larger producer: The SPEED-Cut is ideal for all timber construction companies. Every machine is specified to the individual needs of the customer – from a simple 5 axis cutting machine to a large CNC processing center.
For cross-sections from 20 x40 mm to 240 x 480 mm.
Suitable for processing Timber frame, Roof truss, KVH, Glulam, IJoist. LVL materials, and solid timber components.
Joinery specialist Hundegger brought three new types of systems to Ligna. The innovations ranged from the compact entry-level model for the carpenter to an extremely flexible PBA for panel and truss processing and wall element production to a joinery production cell that also enables smaller companies to carry out unmanned CNC joinery. Not as an exhibit at the trade fair, but still on everyone's lips was the newly developed PBA-Drive, which will in future enable CLT processing in throughput and thus revolutionize large-format panel joinery.
The SPEED-Cut has enormous potential even in its basic configuration level. The saw unit alone can perform a wide variety of different processing operations in addition to simply cutting materials to length. And if you need more:
The modular design means that the standard machine can be extended at any time and equipped with additional units. Drilling, milling, slotting, marking, labelling – the SPEEDCut can do everything and quickly.
Tags: Hundegger SPEED-Cut, joinery, wood, wood and panel, woodworking, woodworking and manufacturing, woodworking and processing, woodworking event, woodworking industry, woodworking technology, woodworking UK