Horst Klaes GmbH & Co KG is planning to visit next LIGNA 2019
&nbspMonday, July 10, 2017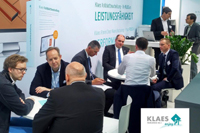 Horst Klaes GmbH & Co KG from Bad Neuenahr-Ahrweiler was so successful with its customized software solutions at LIGNA 2017 that the management team is already planning its next trip to Hannover for LIGNA 2019.
Klaes was founded in 1983 as a one-man enterprise in Rosenheim. Klaes now offers tailored products for companies of all sizes, including flexible solutions for component trading and highly integrated end-to-end ERP solutions for industrial production. The comprehensive portfolio met with an excellent response from visitors to LIGNA 2017. Torsten Schrader from the Klaes sales management team also stressed that customers were in a very good mood thanks not only to their excellent business results but also to the further developments and new solutions on offer from Klaes.
According to Schrader, the official conclusion that the Industry 4.0 concepts for the timber industry were the number one topic at this year's LIGNA 2017 and that the innovations in digitization, networking and automation impressed visitors also reflects his company's positive experiences in Hannover. For example, the company fared well in "networking to the end customer and trading partners" thanks to its Klaes webshop and webtrade. It also exhibited Klaes 3D – a highly flexible tool for digital workflows.
Achim Binder, a member of the technical sales management team, confirmed the healthy national and international demand for Klaes e-control as a key solution for automation in the production environment. "We held a great many detailed discussions about current projects and new machine concepts. Small companies are now also addressing this issue with a view to creating future-proof production processes," he explained. Schrader summed up by saying that the company's showing in Hannover was such a success that it will definitely be back for LIGNA 2019.
Tags: Bad Neuenahr-Ahrweiler, customized software solutions, digital workflow, Hannover, highly flexible tool, Horst Klaes GmbH & Co KG, Industry 4.0 concepts, Klaes 3D, LIGNA 2019, management team, planning, successful LIGNA 2017, Timber Industry, visit