Hasslacher Group takes over Dickel-Holz GmbH
&nbspWednesday, January 18, 2023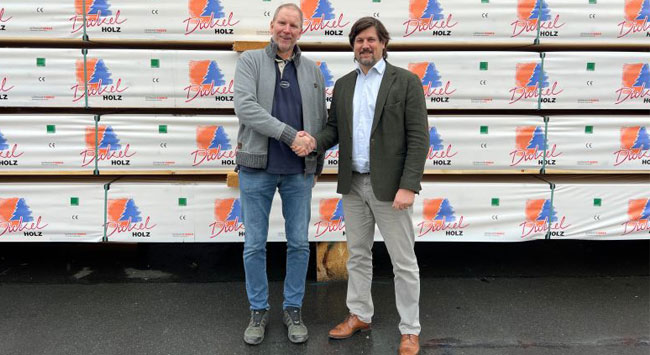 Hasslacher Group recently acquired Germany based timber company Dickel-Holz, and extended their support in the Building Materials industry.
As per Christoph Kulterer, the HASSLACHER Group's CEO and owner, the purchase of Dickel-Holz GmbH & Co. KG is being observed as a significant milestone for the company's further growth in Germany. Its linked solid wood construction facility and the sawmill are advantageously positioned for Hasslacher Group's long-term and sustainable presence in North Rhine-Westphalia.
Specialists in the individual incision
Dickel-Holz also has a strong network of clients and suppliers, and the special products from the brand replete the Hasslacher Group's long-term strategies. Hasslacher Group looks forward to the addition of competent and experienced employees and to breaking new ground together with them, he went on to say. The takeover is subject to the approval of the competition authority.
Sawmill with special products
"Dickel-Holz is a medium-sized family company in the woodworking industry and has stood for quality in service and products for decades. State-of-the-art technology enables us to produce very flexibly and quickly. By means of different further processing options, we can offer our customers at home and abroad a wide range of products and meet individual customer requirements", says the managing partner Christian Dickel. "We are pleased that with the takeover by the HASSLACHER Group we can now continue to grow and make ideal use of synergies. We are convinced that the company is now in the right hands for further successful development."
Ludwig Dickel established the nationally and internationally renowned business in Schmallenberg-Bad Fredeburg 75 years ago (Germany). One of Europe's most economically and environmentally progressive sawmills, the Sauerland wood processing company has been steadily growing, employs about 30 people, and has undergone constant development. Dickel-Holz places a premium on having close relationships with its clients and suppliers. These relationships are essential to the company's success.
Read more news on Hasslacher Group
Tags: austria, Christoph Kulterer, Dickel-Holz GmbH, Hasslacher Group, sawmill, wood, wood and panel, woodworking, woodworking and manufacturing, woodworking event, woodworking industry, woodworking UK