Haefele celebrates 100th birthday with a surprise
&nbspFriday, November 18, 2022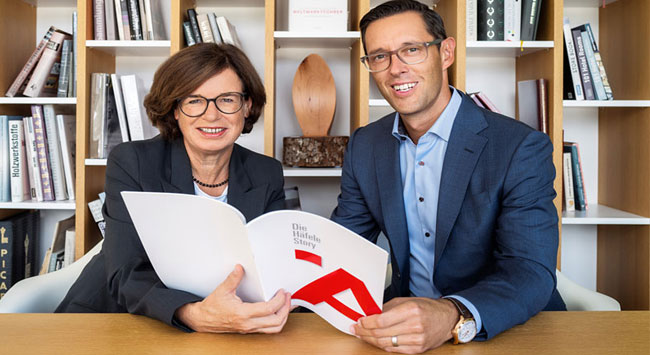 Haefele company group enters the next century on the occasion of its 100th birthday, and with that the brand has planned a surprise – change of personnel. This move comes after 20 years at the helm of the innovative specialist for furniture fittings and architectural hardware, electronic access control systems and LED light, Sibylle Thierer will be stepping down as the CEO. She will pass on the chair of the company management to 45 year old managing director Gregor Riekena.
"Ready for the Future"
Sibylle Thierer will continue to maintain her position as the chairperson of the Board of Directors. This also ensures that her opinions continue to be imperative to the company's decision making. The generational transition that is currently underway is an example of the shareholder families' long-planned and meticulously constructed succession plan, which will be finished by January 1, 2023. This will mesh perfectly with other initiatives designed to achieve a seamless entry into the next 100 years of Haefele. The firm's international realignment with the creation of SE in the company name and the corresponding new management and control structure, which took place in 2020, are as significant here as the company's legal status shift to a European corporation with the designation SE.
Continuity and innovation
"With this change at the top, we are confidently underlining our launch into the next Haefele century," says the outgoing CEO, remaining true to her motto of: "Standing still is a step backwards" with the statement: "It's not about doing everything like we did before, it's about the further development of the industry."
Setting a direction for the future will mark the beginning of the next chapter in Haefele's success story. With the appointment of Gregor Riekena as the fifth CEO in Haefele's history, positive past experience is being built upon. Hans Nock (1982–2003), the company's first CEO who was not descended from the Haefele or Thierer dynasties, foresaw the need for the business to become a global force. The Haefele Group now has a second non-family CEO in Mr. Riekena.
Read more news on Haefele
Tags: Gregor Riekena, haefele, Sibylle Thierer, wood, woodworking and manufacturing, woodworking event, woodworking industry, woodworking UK