Giardina simplifies door coating process
&nbspTuesday, December 13, 2022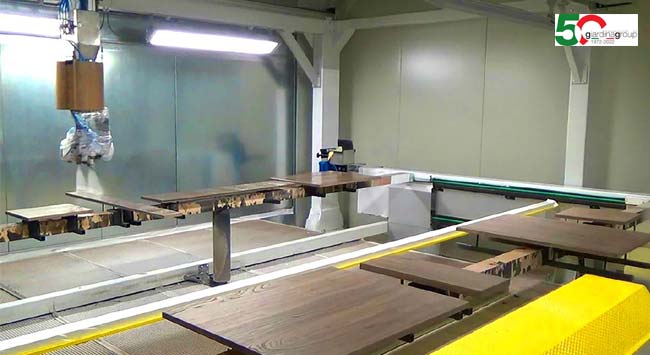 Panel spraying reaches new heights with the latest innovation from Giardina Group. The all new ROBOTECH RBP further simplifies the panel spraying process and gives high quality finish within a short time frame. The "Robotech RBP" is a five-axis robotic spraying system that is perfect for small and medium-sized door manufacturers – at work.
The 5-axis Cartesian robot Robotech RBP Panels allows the painting of flat or shaped products obtaining high quality standards. The peculiar conveyor system with racks can be managed by a single operator, and it takes up very limited space. The robot is normally installed in a pressurized booth and in combination with pressurized drying rooms.
This system – created by Giardina Group, the Figino Serenza-based company specialised in painting and finishing solutions – is designed specifically for spraying doors and door components, but it can be used for spraying any type of part, from furniture components to kitchen parts, both flat and in 3D.
"Robotech rbp": Highlights
"Robotech RBP" has a pressurized room with automatic temperature and humidity control, a door loading and unloading system, with a rotation system that allows the door to be painted on both sides for perfect matt and high gloss finishes.
Reliable, flexible, high quality finishing and friendly to use: these are the highlights of the RBP 5 axes robotic spraying system for small and medium size doors manufacturer. This system is designed for doors and door components base and top coating specifically but it can be operated for any kind of workpiece coating like kitchen doors and components, furniture components, composite components and so on both flat and 3D.
Besides Robotec RBP, Spraying machines Robotech GS25 spray robot is a 6-axis cartesian robot with numerical control able to finish parts with any shape and size, following the contour and optimising the coating of surfaces and edges. One of the finest spraying technology is available with Dry or Wet filtration system, with synthetic or paper conveyor belt. The spraying head can be made in different configurations according to the type of use. 2D or 3D piece detection system.
Robotec sprayer, Robotech H 400 and Robotec H 600 are other important innovations in the robot spraying segment from Giardina Group that perfects the overall process while reduces hazards and hardships experienced by the manufacturers.
Tags: Giardina Group, panel spraying, wood, wood and panel, wooden doors, woodworking and manufacturing, woodworking event, woodworking industry, woodworking UK, Xylexpo