First wooden high-rise now in Innsbruck
&nbspMonday, July 31, 2023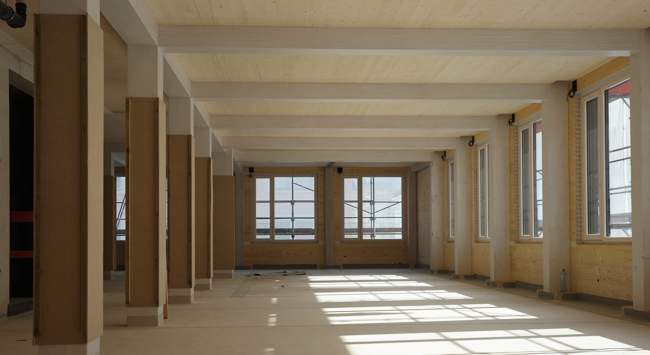 Embracing sustainability as the way forward, the first wooden high-rise is constructed at the heart of Innsbruck. This craftsmanship highlights the benefits and scopes of timber construction in the present environment. This initiative has been undertaken by TIROLER VERSICHERUNG, a leading insurance company. The first wooden modules arrived at the construction site in the early June.
The company is building its new headquarters featuring a green façade with the first timber high-rise building in Innsbruck. It is taking help of some of the local companies while the timber construction being undertaken by the Außerferner Company Holzbau Saurer. Pointing out the company's positive intentions, Executive Director Isolde Stieg said, "We are creating a structure that will benefit future generations. Utilizing a renewable resource and taking active measures against the warming of Innsbruck's city center are just some aspects of our project. This showcases that wood can be effectively employed as a construction material even in high-rise buildings, combined with façade greening. We hope that many will follow our example and implement measures to cool down the city center."
The construction of this project commenced in the late summer of 2022 and it has now developed to a quite constructive point. After completing two basement levels and the ground floors, the project is now concentrating on the rise of the first upper floor. Since the month of June, the assembly of wooden columns, beams, and ceiling elements has been in progress. Façade membranes are also used to protect the wooden elements from rain and other weather changes.
TIROLER is trying its best to make this project a sustainable project white promoting green environment. In addition to 220 square meters of green facades, the project will also come with rooftop gardens with an area of 625 square meters. To execute this project the company has also partnered with green4cities, a spin-off of BOKU Vienna, who has often played key roles in such projects. Special attention has been directed towards energy efficiency and the utilization of renewable energies in the newly developed wooden construction.
Tags: first wooden high-rise, timber construction, wood, wood and panel, woodworking, woodworking and manufacturing, woodworking and processing, woodworking industry, woodworking UK