First ever Xylexpo Show Daily
&nbspMonday, July 4, 2022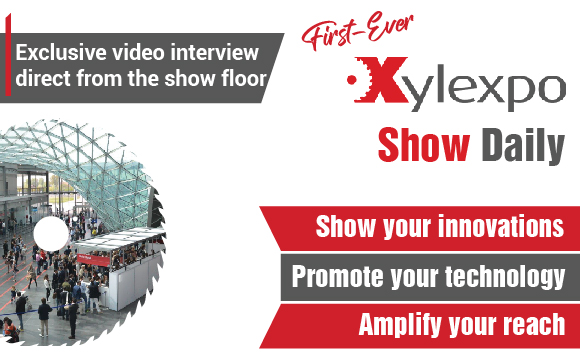 XYLEXPO jointly with Wood & Panel will publish the first ever Xylexpo Show Daily. A one-of-a-kind show daily, this newsletter aims to broadcast updates from the show floor of Xylexpo along with just–released technology, video interviews of the exhibitors and other show updates, to the woodworking industry- whether you are at Xylexpo or not! The newsletter is an opportunity to feature interviews, updates on events during the exhibition, and everything related to the wood technology business.
The wood technology business will once again get a boost at the upcoming Xylexpo in October 2022 as the perfect platform offering endless opportunities to connect and enhance business. The topics of digitisation and sustainability will characterise the next edition of Xylexpo and BI-MU the events organised by UCIMU-SISTEMI PER PRODURRE, the association of Italian manufacturers of machine tools, robots and automation, and by Acimall, the association of woodworking machinery manufacturers, to be held from October 12-15, 2022 in the fieramilano-Rho expo center, Milan.
The unique digital show daily concept in European woodworking industry is the brainchild of Apratim Ghoshal, Editor-in-Chief of Wood & Panel. He remarked, "People are more comfortable reading content and watching videos from their smartphones these days and Xylexpo Show Daily will help you identify the need and plan your visit to the right exhibitors. This digital show daily format has already been a success for the leading German trade show, 'LIGNA', in its past two editions and I am hopeful this will be successful as well." Containing live updates and steeped in special stories and unique features of the event, Wood & Panel will publish three Show dailies during the event.
"This is a perfect tool for exhibitors to promote their latest technology. I am indeed happy with the collaboration", commented Dr. Dario Corbetta from XYLEXPO.
For further details: https://www.xylexpo.com/en/xylexpo-en/xylexpo-show-daily
Tags: ACIMALL, Apratim Ghoshal, Dario Corbetta, newsletter, show daily, technology, Wood & Panel, woodworking, Xylexpo, Xylexpo Show Daily